Pay-Per-Click Today
The Evolution of Advertising
According to Neil Patel and WordLead, Google search ads have an average ROI of 200%. 
In other words, for every $1,000 your practice invests, you generate $2,000 of revenues. As a "known commodity" – one that is admittedly quite complex in 2021 – you have a good idea of what to expect up front and can scale on-demand. What's more, you can quickly and efficiently test new markets, new promotions, new devices, and the like, gathering measurable data to make smart choices about where your other digital marketing dollars should go. 
Since 50% of Internet users, according to Ofcom, could not tell the difference between paid ads and organic results, you can very much obtain the ideal patient through PPC as opposed to solely relying upon organic strategies. 
At the same time, even if you're a big believer in aggressive organic and local efforts – which we certainly are – you can jump-start your marketing efforts with a reliable go-to source of leads and raise or lower spend in a matter of minutes.
PPC Today is Also Complex
The above notwithstanding, PPC is also extremely complex in 2021. No longer can you "set it and forget it" or rely upon any average employee to "keep an eye on things" and expect results. Not any more. Google – and also Facebook and Instagram and Yelp and RealSelf and every other site offering paid ads – have gotten much more sophisticated. Their algorithms ensure that rates of return can be great; but only if aggressively and capably implemented and managed by an experienced team. 
Grow Your Practice with Advanced PPC Strategies
Like I said above, PPC can and should be part of your strategy. If you've been following my work for the nearly two decades I've been putting it out there, you'll recognize that this is a big chance in perspective! I think I've given at least 20 lectures pointing out the pros of organic digital marketing versus the cons of PPC. 
Why
Largely because I have been spoiled
Since I founded Surgeon's Advisor nearly 20 years ago, I've been at the forefront of digital marketing and have for years maintained the most #1 ranked practices in the markets we serve. We tend to get into a market and, well, take over. I have enjoyed watching surgeons enjoy some seriously impressive (and sometimes mind-boggling) growth. 
In fact, for a few years, we had nearly cornered the market on a kind of absurd statistic: We had the most physicians who were the most visible in their primary procedure – on the entire planet. Seriously. 
Then again, back then there was no Google Local. There was no Facebook. There was no Realself. Heck, I remember having dinner with Tom Seery about 15 years ago in Paris when he got a call and passed along the news "my company just doubled in size" or something similar – he had hired his seventh employee!
In many ways, back then things were easy and as such utilizing PPC simply made no sense.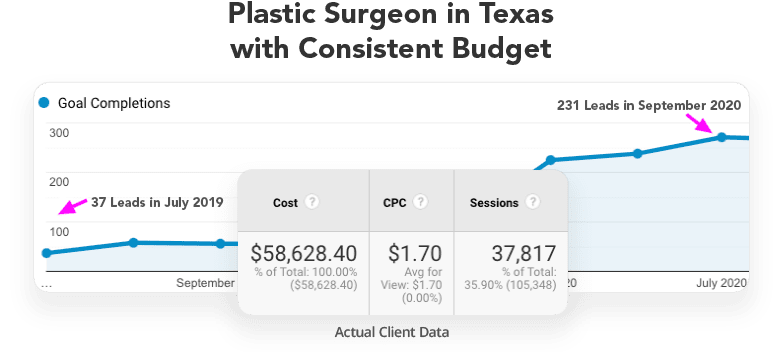 Today, however, practices that ignore PPC and paid advertising are – in my opinion – making a mistake – as long as they go about PPC and paid advertising the right way:
With total transparency.
With solid agreed-upon expectations up-front. 
With an exact number associated with precisely what each medium charges.
With an exact number associated with the management fee charged.
Without those four key items, you risk black-boxing your efforts and either (1) failing to understand your true ROI or (2) simply overspending to subsidize someone's unwillingness to be fully transparent.
Neither are good for your practice. Instead, I encourage you to utilize a full-service solution like our own, comprised of services like these:
Keyword Research and Strategy
Our goal is to ensure that your campaigns are producing results cost-effectively. We want to see your rates go down over time, not up, so the better we research up-front – along with keeping up with over time – the more we can keep your campaign humming. We look at competitive phrases, phrases favored by your competitors, and also longer-tail phrases that can achieve great results at perhaps a fraction of the cost of many phrases that scores of practices are focused on. By employing tactical bidding, alongside nearly two decades' knowledge in this specific industry, we can find – and evolve over time – just the right keywords that (1) attract the right prospective patients, (2) convert into consult, and (3) do so with a fantastic ROI. We stay focused on technical outcomes so we avoid bounces and poorly qualified clicks and instead improve your CTR over time to acquire more and more qualified prospective patients leads that turn into booked surgeries. 
Landing Page Conversion and Optimization
In 2021 it's important to view your efforts holistically – how each department (e.g. seo, content optimization, link building, structured markup, etc.) can and should work in concert to make sure you're ahead of the pack. Landing page optimization uses multiple departments and leverages multiple skill sets. The ideal landing page has addressed:
On-page search engine optimization (SEO).
Technical optimization. 
Structured markup. 
Content writing and content optimization. 
Local optimization. 
Working with each department in concert, we'll create something bold, beautiful, and captivating, yet at the same time, aimed at conversions, lowering your costs, and providing a measurable return on investment. With ongoing efforts and adjustments, it can improve over time.  
PPC Management
Management of PPC is no about "setting it and forgetting it" as it is with so many firms. On the contrary, we believe in daily – yes daily – adjustment and modification. Not only does it work, but we're convinced that Google in its infinite wisdom can tell its happening and rewards us accordingly. 
At the same time we adjust, we test, test, test, and also keep learning. PPC has become a wide array of tactics and techniques, you simply can't manage enough. 
Paid Advertising
With nearly two decades experience building some of the most powerful brands for many of the most successful practices in the world, our digital marketing efforts are what stands apart. By leveraging those digital marketing assets and applying the knowledge expertise and experience in paid advertising, alongside in-depth familiarization with your industry, your patience, their needs, we are able to optimize paid advertising to pay off. We have consistently provided measurable results, and we do so transparently with expectations aligned upfront our goal is to put you in front of your patients and especially prospective patients using different ad platforms as an adjunct to aggressive efforts on your behalf online. 
A/B Split-Testing Your Ads
Going on in nearly two decades we have been big believers in letting data drive decisions. Perhaps that's why we have stayed at the top of the pack when it comes to digital marketing and medical marketing to medical practices. There is no better place than pay per click to leverage data through A/B split testing. Rather than go with gut decisions alongside 10 or even 15 variables, we let data drive the decision-making and test each variable against itself. This way as we maximize each and every little area and combine them together we can help you improve and sometimes dramatically improve upon the conversions are already seeing today
Conversion Rate Optimization
Getting prospective patients to your site is half the battle; getting them to take action and become your next patients is the rest, and you can only win the proverbial war when you've mastered conversion rate optimization. Luckily, it's a science as opposed to an art, and after implementing it in a multitude of ways for scores of practices over nearly two decades we have it down to a series of methodical approaches that drive measurable results and increase ROI. 
By combining the artfulness of your brand, with the experienced perspective of your message, presenting it alongside your picture-perfect work, and using web components that work, we can get the most bang for the buck and the most leads from your spend, and at the end of the day its conversion rate optimization that is the magic that makes it happen.
Social Media Advertising
Social media advertising is another effective way to reach your target market, prospective patients. In fact, you can utilize social media advertising in scores of different ways, some much different than you may have even imagined. Best of all, you can get very granular in what you're looking for while at the same time pay very little comparatively speaking. With the right social media advertising campaign, designed to augment your existing efforts in paper click and digital marketing, you can add that additional piece of the puzzle that helps make your practice the one that stands out amongst the pack.
Google/Bing Ads Management
Google may be at the heart of your practices advertisement management, but we want to make sure you don't forget about being as well. While it may not be the 500 pound gorilla that Google Moving intois, or Instagram, or Facebook, it can still drive targeted prospective patients to your practice. What's more, there's a wealth of data they make available via Bing that helps empower your overall broader advertising efforts. By analyzing your efforts we can best understand not only your needs but also how you've been going about reaching them today, and how we can leverage Google and Bing together alongside other strategies to improve and surpass your goals.
Content Writing
We have been writing about medical content for nearly two decades. We're very good at it. At the same time, we have been honing our optimization skills, learning about prospective patients and patients alike, staying abreast of industry news, and participating in online forums discussion groups so we can keep our thumb on the pulse of what's actually happening. Our writing targets patients at the same time it targets machines. At the end of the day, however, it's all about usability, and are writing is geared with that in mind. Our goal is to make each prospective patient visitor a lead and ultimately a patient. The right content writing and optimization can help propel your paper click campaign to the next level.
Because it's so transparent and measurable, you can get a very clear understanding of your return on investment.
Combining each of these areas into one powerful strategy that can act on its own or be part of a larger digital marketing effort, and very much help your practice grow and take you where you're looking to go.