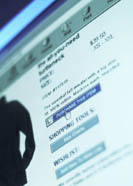 Graphics are an essential element of many websites, but especially when it comes to marketing cosmetic surgery on the Internet. There are many ways in which you can utilize graphics, one of the most powerful being the before-and-after photo. Good before-and-after patient photos can often speak more for your abilities than even the best written copy. As such, they should definitely be included in your website, and you'll no doubt find that other types of graphics will come in handy as well.
It's important, however, that you use graphics properly and with care. Poor usage can cause problems for your visitors, one of the worst of which is slow download times. Part of using graphics properly includes using them in the correct formats. While there are hundreds of image formats that can be used, only a few of them are appropriate. These include GIF, JPEG and PNG formats and are detailed below.
GIF (Graphics Interchange Format). GIF is likely the most common and oldest format on the Internet. This format supports animation, interlacing and transparency. Multiple images can be tied together to create animation, while interlacing allows images to fade in slowly, which is useful for larger images. Transparency allows an image color to be transparent so that the background of the web page shows through. In addition, GIF also provides excellent compression so images can be optimized to very small sizes. On the downside, GIF images can include only 256 colors. Further, a proprietary encoding/decoding scheme patented by Unisys is used in GIF formats and Unisys has recently been demanding compensation from some companies creating commercial image applications.
JPEG (Joint Photographic Experts Group). JPEG, also known as JPG, is another commonly used format on the Internet. This format uses a lossy compression scheme so that image bits are removed as you optimize, resulting in images that tend to get fuzzier with the more compression. Though some definition is lost, JPEG images can often be compressed to smaller sizes than with GIF formats. Further, JPEG formats support more than 256 colors. Images with gradients, paintings and photos for instance, are best used in JPEG formats, while images with sharp definition, clipart and text for instance, are best in GIF or PNG formats.
PNG (Portable Network Graphics). This is a new, up-and-coming format that many believe will take over the GIF format in the future. PNG allows for more than 256 colors, has all the same feature of GIF with the exception of animation, and involves a compression algorithm that is public domain. Further, the compression is non-lossy, unlike JPEG formats, so that image bits are not lost with compression. Care should be taken when using the PNG format because older browsers may not support it. Currently, all newer browsers do support PNG formats.