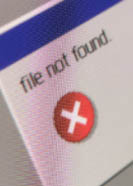 Whether you're advertising doctors' offices or any other business on the Internet, changes to your website are often necessary. Some changes can be great for your site and for promotion. However, other changes, even ones that are great in the long term, can have an immediate negative impact, particularly on promotion. Before making any changes to your website, make certain that you understand the impacts they may have.
Changing your domain name. Changing you domain name can be devastating. Past visitors to your site will have a hard time finding you at your new address. In addition, all inbound links from other sites, search engines and directories, and bookmarks will end up as broken links. In many cases, potential patients will simply assume that you've gone out of business. There are, however, some times when changing your domain name is worth the risk, such as if you're using a free Web address from your ISP, if your name has been banned by the search engines for spamming, or if your name is associated with legal problems. If you must change your domain, you can lessen the negative effects with a server redirect that automatically sends visitors and spiders to your new site.
Changing your directory structure. Search engines assume that your most important pages are placed higher up in your site's hierarchy and, as such, typically give those pages more relevancy. It's best to design your site in this way, with your most important pages closer to the top of the hierarchy. However, it's best to do this right from the start. Changing your site's structure once it's already in place can lead to lots of problems, including broken backlinks and coding errors. Further, these changes can negatively impact your search engine results so that users encounter broken links in the results page until your site gets reindexed, which can take anywhere from weeks to months.
Changing your Web host. When you move your site to a new Web host, you also get a whole new IP address. This change need not be a bad one if you do it correctly and carefully. Once you've moved and you have a new IP address, it can take some time before the domain name servers are updated. During this time, some visitors to your site may receive a 404 file not found' error message, including the search engine spider. Because of this, it's important that you keep your site up with your old Web host for at least a month after you've made the change.
Changing your image and file names. You can greatly improve your search engine rankings by including targeted keywords in your image and file names. However, this is best done right from the start. As with changing your site's directory structure, changing your image and file names once your website is up and established can lead to problems like broken backlinks, broken image links and coding errors.