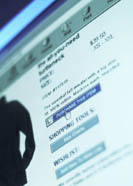 When it comes to Internet marketing for plastic surgeons, content is very important. So many potential patients out there use the Internet to conduct research and find information about plastic surgery procedures and plastic surgeons. By having lots of valuable, keyword-rich content on your site, you can rank high in the search engines, get more visitors to your site, and satisfy those visitors enough to become actual patients. In order to satisfy those visitors, however, they must actually read your content.
Many studies have proven that reading on the Internet, or on a computer monitor, is much different than reading something in print. It's more strenuous on the eyes. Because of this, and because Internet users typically want the information they're looking for quickly, they tend to scan text rather than read whole sentences and paragraphs. While your website may offer lots of valuable content, it's important that you consider how it's presented. If presented poorly so visitors don't read your content, it's serving no purpose. One of the best ways to present content on the Internet, particularly important content, is by using lists.
Lists can help to grab your visitors' attention. Visitors to your site will likely scan your pages looking for information that interests them. If your important content is contained within a large block of text, they may very well overlook it. Consider the following example about the risks associated with abdominoplasty:
Example 1:
Like all surgery, there are certain risks and complications associated with abdominoplasty. Infection and blood clots can occur, though they are typically rare and infections can be treated with drainage and antibiotics. Poor healing can also occur and may result in conspicuous scarring, skin loss, or even the need for a second operation. Bleeding beneath the skin flap can occur as well.
Example 2:
Abdominoplasty Risks And Complications:
Blood clots
Bleeding beneath the skin flap
Infection
Poor healing resulting in conspicuous scarring or skin loss
Need for a second operation
The text on your website must be formatted for easy scanning and reading. Your most important content should be highlighted, and lists are a perfect way to do just that. You can further emphasize your lists by using bullets, bold text or different colored text.