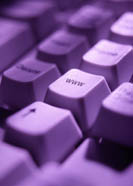 Links have become essential to the success of a website. The algorithms used by many search engines to rank websites consider the amount and quality of links that a website has. Inbound links, or links from other websites that direct traffic to your site, are viewed as a sort of popularity vote. The more quality inbound links you have, the more votes and thus the better your site will rank in search engine results. Acquiring inbound links often requires that you exchange links with another site, thus adding an outbound link for that site on your own website.
When it comes to advertising for cosmetic surgeons, the search engines are crucial to your website's success. Many if not most of the visitors coming to your site will find you after conducting a search in a search engine. Because of this, it's essential that your website perform well in search engine results. There are many factors that go into optimizing your site to perform well in the search engines. However, since so many search engines put great value on inbound links, it's important that you take efforts to acquire as many quality inbound links as possible. It's also important that you make those inbound links as effective as possible. The following are tips for building better links:
Keywords. When it comes to advertising for cosmetic surgeons, there are many different keyword phrases that you can target. For example, you might target the following: plastic surgery', cosmetic surgery', plastic surgeon', rhinoplasty', breast augmentation', and so on. Rather than targeting the same keywords with all of your links, you can make your links more effective by varying the keywords you use in your link anchor' text. Each link for each site can vary slightly in text and target a different keyword. This will help your site to rank for many keywords as opposed to just one or two.
In-Text Links. Links are typically set up in a similar way, with a hyperlink followed by a description of your site. Consider setting up your link information differently, with the hyperlink inside the link description. Your link information would involve a sentence describing your website which would include a descriptive hyperlink within it. Your link description will read more naturally this way, plus it may be valued a bit higher by the search engines given that it reads more like a narrative.
Link Destination. The majority of your inbound links will likely point to your homepage. However, it can be very advantageous to also include a few which point to other important pages on your website.
Link Partners. One great way to find potential link partners is to check out your competitors. Sites link to your competition may be more likely to link to yours as well. You can do a simple search in a search engine for a competitor and see what websites come up.
Directory Links. Consider directory links. Some of the best links you can get are those from good link directories. Some directories are free, others charge a fee.
Outbound Links. Contrary to what many people believe, out bound links do not have to be a negative. By all means, add an outbound link to your site even without a reciprocal link if it's to a website offering valuable, related content.