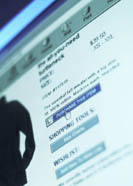 Whether you're marketing plastic surgery practices or any other business on the Internet, it's essential that your website encourage visitors to click beyond your homepage. Unfortunately, for many websites out there, a lot of their visitors never get beyond that first page. Even well-optimized websites with excellent search engine rankings can lose visitors once they've clicked on their site. That can equate to a lot of lost visitors or, in the case of Internet marketing for plastic surgeons, a lot of lost potential patients. The following are simple tips for piquing your visitors' interest and encouraging them to click beyond your homepage.
Patient Photos Before-and-after patient photos are a very powerful tool and can often speak more for your abilities as a plastic surgeon than even the best written copy. Make sure to include one or two of your best patient photos on your homepage with a link to more photos on a photo album page.
Patient Testimonials Like before-and-after photos, patient testimonials can be very powerful and also increase your credibility. Consider using one of your best testimonials in a prominent spot on your homepage.
Headlines Because Internet users tend to scan text on the web rather than read it word for word, it's important that you highlight important information so that they can quickly find it. Headlines are a great way to do this and can be further highlighted by using a large font or a different color.
Copy Be particularly careful with the words and the message they convey on your homepage. Ideally, your copy should entice your visitors and encourage them to learn more about you and your services. It should also foster a sense of trust. Further, all of this must be done quickly and efficiently.
Navigation Don't give your visitors too many options, or links, so as to confuse them. Ideally, your links and navigation should guide visitors through a series of steps that ultimately lead them to the action you want them to take, namely contacting you to become your patient. This is often best achieved by minimizing your visitors' choices. Also be sure that your navigation is very clear and that visitors can quickly and easily find the information that they're in search of. In addition, keep external links off of your homepage.