Surgeon's Advisor uses a comprehensive, well-rounded approach that provides the search engines with what they want, while at the same time providing prospective patients with what they need to become actual patients. As part of our partnership with you, we handle all aspects of your Internet strategy by including a wealth of services.
Our strategy and methods include the following:
Develop an aesthetically-pleasing, comprehensive website made up of over 300 pages.
Utilize high-quality search engine marketing tactics that ensure your website ranks highly.
Custom design all elements of your website to target specific prospective patients and provide all the information they need to become actual patients.
Digitize and publish all the relevant material about you and your practice, from photographs and testimonials to research papers and press releases.
Modify, manage, and maintain your website and content, and make daily changes that target new visitors and maximize search engine penetration.
Analyze results on a regular basis and make changes accordingly.
Make ourselves available to handle each and every aspect of your Internet strategy for you — so you can spend your time performing procedures.
---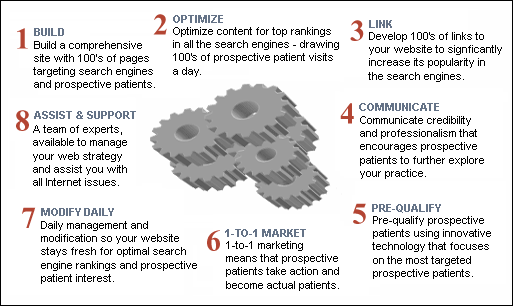 Read more comprehensive information about our methods below or
continue here to learn why our methods are so successful.
---
Underlying our methods are two important ideas: (1) bringing many more qualified prospective patients to your web presence, and (2) converting more of these prospective patients to actual patients.
Underlying our methods are two important ideas: (1) bringing many more qualified prospective patients to your web presence, and (2) converting more of these prospective patients to actual patients.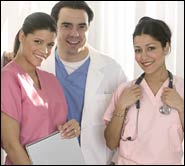 To accomplish the first goal — to bring more qualified prospective patients to your web presence — we employ a variety of strategies, starting first and foremost with search engine optimization (SEO). SEO traditionally falls into two categories, white hat and black hat. White hat SEO follows the rules and doesn't risk being penalized; but it is very time-consuming. Black hat, conversely, doesn't follow the rules, and while it can be effective, it can also get your website penalized or even deindexed by the search engines. Examples of black hat strategies include hidden text, doorway pages, and cloaking. White hat involves intelligent optimization of a lot of written content. And that's exactly where we differentiate ourselves most. While many companies will offer to build you a 5, 10, 15, or 20 page website, our clients have hundreds of pages of content — well written, optimized content that targets individual visitors. Importantly, this is precisely what the search engines want — a lot of quality content.

To address the second goal — converting prospective patients to actual patients — we work to provide a clear, concise, and professional web browsing experience. Then, we focus on those things that mean the difference between browsing and leaving, and actually becoming your next patient. We present you in the best possible light, playing up what makes you better than the next surgeon.
Click here to learn more about what we do on your behalf.
The benefits of marketing your plastic surgery practice with Surgeon's Advisor.
Benefits to your Practice – Utilizing our Internet Marketing Methods
To see real-world examples of the benefits we provide, including a 550% revenue increase, 300 to over 500 procedures performed, and a doubling of revenues,
click here to view three Surgeon's Advisor case studies.
The advantage Surgeon's Advisor brings to your practice and the benefits you receive:
Creation of a website that is aesthetically pleasing, concise, and well presented – one that plays up your expertise and professionalism, along with the quality of your work.
Development of 300+ pages of well-written and optimized content focusing on your practice, your patients, and the procedures you perform.
Digitization and publishing of hundreds of patient photographs, testimonials, research papers, videos, and press/publicity materials.
Increased inbound links to hundreds or more.
Increased visibility in Google, MSN & Yahoo.
Increased unique prospective patient visits to 300, 500, or even 900 per day.
Enhancement of your credibility and expertise for prospective patients who visit your website after a consultation, and for prospective patients who arrive via Internet searches.
The most Internet visibility of any plastic surgeon in your city.
A team of experts that you can rely upon to continue working on your behalf while managing, monitoring, and maximizing all aspects of your Internet strategy, day-in and day-out.
---
The Benefits of Internet Marketing
Marketing your practice online can have many benefits. Still, a lot of people remain dubious about those benefits. So, just why should you consider Internet marketing?
First, and perhaps most importantly, your patients – and potential patients – expect it. Today's world is a connected one. Potential patients expect you to have a website, one where they can find out about you, your practice, your services, and your previous patients. Further, with the Internet, time is no longer an obstacle. Potential patients can search for services on the Internet as their schedules permit. That means that, while your office may not be open after hours, your website will be.
With traditional Internet businesses, distance is no longer a factor. This can hold true too for surgeons as many patients are willing to travel for the right, or best, doctor. Not only does this allow people to bypass traditional business channels, it opens up a whole new, and vast, segment of the potential patient population for you. Further, while traditional marketing campaigns can be difficult to track, the results of Internet marketing can be effectively measured. This allows you to keep track of just what's working and what's not, and changes can be easily made to ensure that your Internet market is working at its full potential.
The benefits of marketing your plastic surgery practice with Surgeon's Advisor.
Compare Internet Marketing Options for Plastic Surgeons
There are some important elements that differentiate Surgeon's Advisor from other options:
Everything we develop on your behalf is owned by you and you alone.
Unlike pay-per-click, where results end after payment ends, our efforts create
lasting results for months and years to come. Also, pay-per-click costs significantly more
per unique visit – and again, doesn't create any content at all.
Unlike services that list doctors, you and you alone benefit from our efforts – you are not competing with 5, 10, or more doctors in your area for the visitor's attention.
We work with a limited number of plastic surgeons. We create a significant level of Internet penetration – one that only you will benefit from — and one that will help you blow away your competition!
Performance-based pricing mean that as you do better, so too, do we. It is more than a client/provider relationship – it is a partnership – and since no client has ever discontinued their relationship with us, it is apartnership built to last.

Read more below or continue here to learn about our cost-effective, performance-based pricing.
---
Cosmetic Surgery Marketing Options In-depth
Directory and Listing Websites, while potentially effective, are not nearly as much so as developing your own website. In fact, we believe that's one of our main differentiators, something that enables us to eclipse the competion: rather than listing you alongside many other doctors on sites we own and promote, we focus solely on your own site, and all assets developed on your behalf are owned by you and you alone.
---
Search Engine Optimization (SEO) – part of what Surgeon's Advisor provides, can be extremely effective if done properly. As an in-house solution, it can be complicated, time-consuming, and expensive. As a do-it-yourself project, it can also fall short of what one would hope to achieve. SEO involves building websites and web pages that are optimized for search engines like Google, Yahoo, and MSN.
Effective SEO involves generating a lot of quality, comprehensive content that serves its users rather than just the search engines themselves. Ineffective SEO can cause more harm than good: spamming, cloaking, and other items discussed in our what to look out for section can cause site penalties and even de-indexing from the search engines. As such, it is vitally important to utilize 'non-spammy' techniques; to create genuine, quality content that makes both your visitors and the search engines happy.
When done properly, SEO can be extraordinarily effective. It can produce results that cost much less than pay-per-click (PPC) advertising – in fact, in Surgeon's Advisor's case, the results average between 500% and 4,000% less expensive than PPC.
SEO can also produce long-lasting, permanent results. Since the process of smart, thorough SEO involves developing quality content, the search engines recognize that it is just that; and if the pages are optimized properly, each and every one can remain well-positioned in the search engines for months or even years to come.
Again, proper SEO that produces results takes time and effort; often more time and effort than most surgeons are willing to commit. As an aside, we have found that it always makes most sense to let our clients focus on what they do best (performing surgeries) while letting us focus on what we do best. As a result, we require little effort on each client's part – usually just two to four hours per month, plus a little more at the beginning.
Surgeon's Advisor has the edge of other companies because we develop significantly more content that is targeted properly and changes regularly. In addition, with so much knowledge of plastic surgery, we're able to serve both the search engines and prospective patients alike.
---
Pay-Per-Click (PPC) – a process we can utilize in our efforts for clients, PPC has become much more popular in recent years with the implementation of Google's AdWords program and the services provided by Overture. PPC is a means of bidding on top positions for search engine placement, and it is a fast and potentially effective method for getting visitors to your website(s). It is also expensive, sometimes very expensive. As mentioned previously, our SEO efforts compare very favorable to PPC and are usually 500% to 4,000% less expensive.
While PPC can be implemented in as little as 5 minutes (with Google), it has a significant drawback: it is not building assets that will last for days, weeks, months, and years to come. In fact, the moment you stop your PPC campaign, your entire Internet presence disappears. In addition, bidding on key phrases can get expensive, so we believe that appearing at the top of the search engines naturally, through our efforts, is the optimal way to go.
---
Yellow Page Advertising
In much the same way you can advertise in your local phone book, you can also advertise in online phone books or yellow pages. Unfortunately, so, too, can every other doctor in your area. As a result, you are competing with many doctors for the attention of each visitor. While it may provide some traffic, it simply does not compare to developing your own assets in such a comprehensive manner that you thoroughly penetrate your market and absolutely capture the interest and attention of prospective patients.
---
Inexpensive, 'submit to a million search engines' services – essentially to be avoided at all costs, these services, ranging in price from $29.95 to approximately $299.95, sometimes one-time, other times monthly, simply do not work. In fact, we have tested these services over the years, and the most effective of them generated exactly 200 visits to a client's website — over the course of an entire year. The reality is that these services rely on a cookie-cutter approach that is fundamentally flawed, primarily because fewer than 15 search engines are actually worth targeting, while the other 995,985 are for the most part worthless, untargeted and irrelevant.
In addition, many of these services bundle features like 'guaranteed inclusion' and the like. Well the reality is, the search engines themselves offer 'guaranteed inclusion' for a lot less. And another important point is that guaranteed inclusion means just that: you are guaranteed to be included in their directory. But whether you are included at position number three or position number 3,000,000 is another story. Inclusion is only inclusion. Spend your money elsewhere.
---
We would rather you saved your money and read some of our free Tips and Advice located throughout our website. We're 100% certain you will generate better results by following our suggestions, and while we may not make you our next official paying client, at least we'll know we helped you avoid wasting your money!
Doctor Marketing – Limiting the Number of Clients
In your practice, you already have to deal with competing against other plastic surgeons in your area. The phone book, television advertising, radio and more — other doctors are advertising for prospective patients' attention.

For most cosmetic surgeons, the Internet provides yet another place where they compete against other doctors. Through SEO, pay-per-click, yellow page websites, and directory and listing websites, visitors are exposed to multiple doctors, often presented side-by-side. Well, we have a better way: instead of creating websites that list doctors alongside one another, we choose just one or two plastic surgeons per specialty in each city, and provide overwhelming Internet penetration just for them.

Again and again we've proven the merits of this strategy, and from experience, we know that it works. It's only logical. If a prospective patient visits a website where two, three, or more doctors are listed, the chances that they'll choose you are minimized. If, however, they find your website — and no other doctor is listed — then you are the obvious choice.
When it comes to Internet marketing for plastic surgeons, this approach is by far the most successful. To see just how successful it can be, click here to read our plastic surgery cast studies.
UPDATE: As more and more surgeons contact Surgeon's Advisor for our doctor marketing efforts, we began to realize that a "one size fits all" service simply doesn't work. As such, we now offer services in three tiers: small market, medium market, and large market. For our small market clients, we will only work with one facial plastic surgeon and one general plastic surgeon specializing in body procedures. For our medium and large markets, we will only work with one to three of each. The bottom line… when we work with you, we give you all our attention and make sure you dominate your industry!
Doctor Marketing Technology
Bells and whistles will not bring more patients through your door, but the innovative technology we incorporate into your web presence will do just that; while at the same time making your practice more efficient and letting you and your employees focus on what you do best.
The foundation or our technology for marketing doctors on the web is our doctor marketing management system, which is built in .Net and is our robust version of a traditional content management system. This enables our team to efficiently manage all areas of your Internet strategy while providing access to great features like discussion forums, blogs, and RSS.
Behind our DMMS is a database system that enables Surgeon's Advisor to micro-focus its search engine and Internet marketing efforts on your behalf. We can determine precisely who is looking for what, and provide them with exactly what they are looking for.
For hosting, we utilize an advanced system where your website resides in four locations that are geographically dispersed. In addition, we use real-time disk synch technology for backups. We incorporate failover in the event of a problem somewhere, and we mulitple large and fast connections to the Internet. To make sure everything is running smoothly, we monitor all of it 7x24x365. What's more, while some companies will put hundreds, thousands, or even tens of thousands of sites on a server, we put no more than5.
All of these things help us market your practice and manage your assets in the most thorough and efficient way possible.
Click here for a free analysis of your website and Internet strategy and find out how we can take your practice to the next level.
Marketing Technology for Doctors
Our Plastic Surgery Marketing Methods – Why they Work
As our case studies demonstrate, our comprehensive Internet marketing methods really work. While we like to call them Internet marketing methods, there's really so much more to it than just Internet marketing… in fact, there are a number of things we do to ensure your continued success:
First, by creating a lot of content — hundreds of pages that are well-written, aesthetically-pleasing, concise, and optimized — we are giving the search engines precisely what they want. They want to see comprehensive websites loaded with quality information. When you provide them with just that, you become an authority site in their eyes, and your rankings skyrocket.
We update our clients' websites daily. Yes, daily. That ensures that the search engines keep coming back for more. Even more importantly, it ensures that prospective patients keep coming back as well.
We write so much plastic surgery content and, at the same time, stay abreast of the industry. As such, we really know plastic surgery inside and out.
We know what prospective patients are looking for and how best to target them individually, and we provide just what they want so as to effectively convert them from prospective patients to actual patients.
We utilize innovative and proprietary technology that gives us a tremendous edge over our competitors.
We utilize performance-based pricing, so as you do better, so, too, do we. This creates more than just a client-vendor relationship, but a partnership. And since no client has ever discontinued working with Surgeon's Advisor, it is a partnership built to last.
The benefits of marketing your practice online
To see real-world examples of the benefits we provide and the success of our efforts, click here to view three Surgeon's Advisor case studies.
As our case studies illustrate, we have increased year-to-date revenues by 550%, increased surgeries performed from 300 to over 500, and doubled surgeries performed and surgical revenue. We have also:
Developed hundreds of highly targeted and focused web pages.
Provided an overall search engine visibility rate of 50% to 80%.
Increased credbility while differentiating each surgeon from his competitors.
Increase the number of prospective patient visits to hundreds a day.
Increased the number of procedures performed.
---
So what can you expect?
Based on results for previous clients, the following average expectations are reasonable. Bear in mind that a number of factors impact the potential efficacy of a campaign for any given plastic surgeon or clinic, and not all surgeons can necessarily expect such dramatic results. We will let you know up front and always commit to what we project.
---
Before We Begin:
Very early on, we determine exactly where you stand on the Internet, how many visitors you are receiving, and how you are positioned within the search engines and within your industry, especially as compared to your competitors. We usually find that clients are in one of two situations. Either they have virtually no Internet presence and are truly just beginning, or they are currently working with another company. Those with little to no Internet presence normally attract about 5 to 10 or so visitors per day to their website, while those working with another company are usually averaging 40 to 70 visitors per day, and sometimes as many as 125 visitors per day. Sometimes we also find surgeons who are utilizing pay-per-click (PPC) advertising, usually at a rate of between $1.25 and $3.20 per visitor to their website.
---
Month-to-Month, Daily Maintenance, Modification, and Analysis
At this point, we have created a successful foundation for your Internet presence, yet we are only just beginning. The very same strategies we've utilized to arrive at this success are continued on a daily basis, and prospective patient visitors will continue to increase by 10% to 20% per month or more until we have essentially 'saturated the market' and provided an exposure rate of greater than 70%. Since so many new people are logging on to the Internet for the first time every day – in fact, the number of total users continues to double every 11 months – and prospective patients search for plastic surgery information and surgeons at an even greater rate, we do not rest, but expand further by building new pages, new web sites, increasing exposure, and targeting new segments of prospective patients and specific key words and phrases.
The benefits of marketing your plastic surgery practice with Surgeon's Advisor.
Watch Out! Things to Avoid in Plastic Surgery Marketing
We've provided some information about what you should look for, watch out for, and be sure to avoid, as well as some tips to help you along the way.
Strategies where companies do not actually modify your web site:
If someone tells you they can get you many web site visitors, but will do so without actually modifying your web site, then you should be very wary. Why? Because it is simply not possible to build a successful and legitimate campaign without putting in a lot of effort, effort that requires modifying your actual web site.

Normally, companies who send traffic to web sites without modifying them are building duplicate domains,doorway pages, or something similar, and often sending very unqualified traffic. Remember, the traffic to your website is not important. What's important is that the traffic is legitimate, qualified, and focused, and that you are actually providing the information these visitors searched for.
Hundreds, thousands, or even tens of thousands of duplicate doorway pages:
While we strongly encourage a strategy that includes hundreds of web pages, we feel even more strongly that recycling duplicate content in the form of doorway pages is one of the worst things you can do. Why? Because most won't even make it past the search engines' duplicate content filters, but more importantly, widespread use of this tactic may get you banned.

What are duplicate doorway pages? In essence, they are simply hundreds or even thousands of copies of the same page with just a few items changed — essentially the key phrases — that do not in any way, shape, or form help your web site visitors.
Multiple duplicate domains with the same content:
On many occasions we have run into this, and it's not good. Companies, especially those who do not modify your existing web site, simply duplicate the web site and host it elsewhere under new domains. So, for example, if your web site is abc-plasticsurgery-123.com, they will copy all of the existing content and create new domains like def-plasitcsurgery-456.com and ghi-plasticsurgery-789.com.

At best, it will likely not make it through the search engines' duplicate content filters. At worst, if the search engines notice these trends – or your competitors do and let the search engines know – you could wind up being dropped, and short-term future efforts will be made much more difficult.
Hidden text, hidden links, and other 'spammy' tactics:
Sometimes these tactics are actually funny, and you may have noticed them before. We certainly have! A web page that looks fairly normal until you scroll down and see hundreds of key words written in the same color as the background of the page. Or tiny, invisible images that link to many other pages, yet serve no purpose to the visitors.

Many search engine optimization specialists who advocate legitimate practices – practices that aren't clearly forbidden by the likes of Google – have a mantra: if what you are doing serves a purpose for both the search engines and your visitors, it's good and legitimate, and if done properly, will bring success. Conversely, if what you're doing has no purpose for your visitors and is only meant to sneak into the search engines, it should not be done, and will likely get caught and cause you more problems in the end.
Paying too much for pay-per-click (PPC):
Advertising on Overture, Google, or another search engine? Utilizing PPC to bid against competitors for the top positions? Someone else running your campaign for you? Well look into it! Many firms will charge as much as double the rate being charged by the search engines themselves, all for just managing your campaign. So if Google's number three position costs $1.40 per click, the firm is actually charging you $2.80. If 1,000 people click the ad, you're paying $2,800 instead of $1,400. Or, in other words, you're receiving only half of the visitors you could be for the same rate.

That's capitalism, right? Well, we don't agree, especially when it's not made clear that there is a charge for managing the campaign. Plus, the efforts undertaken to create and manage the campaign can be vastly different. Some people simply spend 15 minutes writing an advertisement and then only select one or two top key words to target. In our opinion, that amount of effort is not worth what you may be paying for it. Some companies, though, do actually put forth the effort, utilize multiple advertisements, target multiple key phrases, and modify their efforts accordingly, and in these cases, it may be a legitimate fee.

One thing is certain: you should look into it yourself and see exactly what is going on, because the reality is, you could be managing your own campaign with little time expenditure on your part and enjoying much better rates.

Surgeon's Advisor, by the way, will create and manage a PPC campaign for free for its clients. We simply cannot substantiate additional costs… it truly doesn't take that much time, especially when you know what you're doing.
Mistaking 'hits' for visitors and visitors for unique visitors:
We haven't heard of anyone actually lying to their clients about their web site traffic, but are ware of much confusion about this issue. As such, we think you should understand the difference between the two. Especially since so many people don't.

A hit represents each time any element from your web site is transferred across the Internet. It means almost nothing because a single web page could have 20, 50, or more elements. Images, spacer .gifs (1 pixel x 1 pixel transparent images used to enable more a precise layout), flash movies, pages themselves, and more are considered elements or hits. As such, you could have one visitor who browses only a few pages but generates hundreds of hits.

A visit is just that, a visit to your web site. It can actually represent a visitor (as in a real, live person), and usually does, but it can also represent a search engine spider, crawler, or even yourself when you visit the web site. There is a fundamental difference between a visit/visitor and a unique visit/visitor.

A unique visitor is one who is separate from others, one who is unique; so if this unique visitor browses your web site 20 times in a day, you have 20 visits, but only one unique visit. In other words, a visit represents each time a visit is made to your site while a unique visit represents each unique visit to your site, from a unique IP address.
Not seeing the in-depth results of your efforts:
This is extraordinarily common. Sometimes you are not provided information at all, while others, you are provided information that is setup to show only the good and ignore the bad.

You want to see all of the following for each and every web site:

How many visitors and unique visitors you are receiving;
Where these visitors are coming from – and we mean exactly where – the names of the web sites they arrive from;
What search engines they are arriving from;
What was searched in the search engines by visitors who arrive at your web sites;
How your site is functioning, including technical details about errors, missing pages, and the like.

So how do you do this? Just say the following: 'Show me the reports/traffic reports/analytics, etc. for the entire period, for the entire site, with no filters.' In other words, 'show me everything!'

The fact is, virtually all reporting software is setup to do this automatically, and most times that you see anything less it is because inferior software is being used or filters have been created to exclude certain data.

If work is being done on your behalf, but, as mentioned above, there is no modification being done to your actual website, then things get a little trickier. Our first advice is to stop doing it this way! Short of that, view the traffic reports for your existing web site(s) – where the other web sites should be sending the traffic anyway – and, view the reports for all the other web sites as well.

Why? Because this information is necessary to make sure you are doing the right things, targeting the right traffic, achieving success in the search engines, and continuing to analyze and respond so you can do better.

Besides, this information can be very helpful in other ways. What if the first time you viewed this report you found that 90% of your visitors were searching for light bulbs and arriving from a light bulb site? You wouldn't be very happy. Well, it happens. In fact, we saw this very scenario when we took over for a client.
Relinquishing too much control of your assets:
Unfortunately, we've seen this all too many times, where a surgeon does not own the assets that have been created on their behalf. Make sure you own everything. Furthermore, and something to be sure of, make sure that all items are registered in your name or the name of your practice. Again, companies who do not modify your existing web site will often create additional domains, but almost always register these domains to themselves. So, if things go wrong, or you want to end the relationship, more often than not you lose these assets. It happened very recently to one of our clients, and the worst part is that the domain was his actual name.

There is — quite simply — no legitimate reason for a company to register your assets in anyone's name other than your own. Period. No matter what reason is provided, it is 100% not necessary.

Domain names include a number of vital elements. The registrant is the person or company that owns the name. This should always be you. Then, there are three contacts: billing, administrative, and technical. While some companies require that if you are hosting with them then they should be listed as the technical contact, you should always be listed as the administrative and/or billing contact. Then, anytime anyone tries to modify your domain information, you will have to authorize it, and if you don't, it will not be changed. Additionally, make sure you keep the email address you utilize to register domains valid and updated, because if you don't and you want to make changes, it can be more complicated.

With regards to the hosting itself, it always makes sense to utilize more comprehensive services, including those used by Surgeon's Advisor. Wherever possible, we have each domain listed with a managed DNS provider. We then utilize failover to ensure that if the something is wrong with the primary web site, web server, or Internet connection, it automatically utilized the secondary web site, web server, or Internet conception. Additionally, with managed DNS you can make changes that are reflected in minutes or hours as opposed to 24 to 72 hours with regular DNS services.
Not maintaining regular backups of your assets, including the original files utilized to create them:
This is an easy one thing to make sure you do properly, but surprisingly, one that most people do not pay enough attention to. While your provider's backups are important, and should be done on a regular basis, you, too, as the actual owner of these assets should receive backups on a regular basis. The last thing you need is for your provider to go down, or your relationship to deteriorate, and for you to be left with nothing. The reality is that web sites are small compared to other documents. Entire web sites are often only 3, 5, or 10 MB in size.

Another thing to consider: make sure you backup and save the files utilized to create these assets. If, for instance, you or your provider utilize Adobe Photoshop to create all the images, or Macromedia Flash to create the flash, be sure to receive (and backup) the original files utilized to create these assets. That way you can avoid completely redoing everything at a later date.
Utilizing too many bells and whistles:
Animations, sounds, blinking text, browsers that shake… it's all so cool and visitors love it. Forget it. Nothing will ensure your lack of success more than overdoing it on your web site(s) and ultimately turning off your visitors. Do not go overboard with animations, flash, blinking anything, or sound. And especially don't force these items on your visitors. If you think that Beethoven track will be loved by your visitors and you must have it, leave it to them to choose to listen to it if they want to. Same thing with flash presentations and animations. Don't force it on them. And never use blinking text!

According to Creative Good, you have exactly eight seconds to capture the attention of your visitor. If your page is still loading, you've lost them. Furthermore, there's a reason the top web sites on the Internet don't use lots of flash, animation, sounds, or the like: they work and people like them. So in our opinion, it's always best to go with something that works and has become a standard in and of itself. Leave the 'cutting edge' to artists and movie producers, and utilize what will increase your patient base.
Your Strategic Partner – Succeeding Alongside You
Surgeon's Advisor is not only the company of choice for some of the most successful plastic surgeons in the world — but it is also the company of choice for surgeons who want to spend their marketing dollars wisely, with an Internet team devoted to achieving results on their behalf, and our own.
We recognize that the best way we can succeed is to establish a relationship where our efforts drive not only your success, but also ours as well.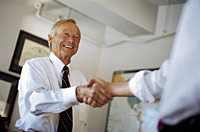 For that reason, once we have chosen to work with a prospective client, we create a plan that involves development and maintenance fees along with performance-based fees…. the more you succeed, the more too, do we.
This strategy has proven extremely effective and is just one of the reasons that our aggressive efforts continue three, six, twelve months down the road and beyond. While we are not inexepensive, the cost-of-marketing we will achieve is unbeatable… and only one thing need be considered: that you can sustain the growth and handle the ever-increasing number of new patients coming in the door of your practice.
Performance-based pricing and plastic surgery marketing