Celebrity news and pop culture isn't a favorite of many of our more traditional clients for social media fodder, but the stats make a strong argument for posting these types of stories.
Recently, we started incorporating some celebrity and pop culture surgery related blog posts on his website and have seen a great response. Two weeks ago of five posts to twitter, the most popular post received more than twice the clicks than the next most popular one about Celebrity Swan a reality TV show: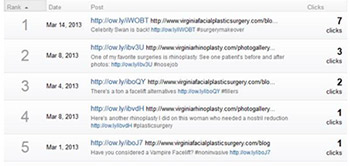 The next post popular was before and after photos from his site. But the point here is that there's a reason In Touch Weekly flies off the shelf at the supermarket. And in a more sophisticated, less tabloid-style manner one can take advantage of the public's attraction to celebs and write blog posts on these trending stories or link to them on Twitter and Facebook.
At any rate, here are 10 tips to engage your followers on Social Media channels that we came up with:
10 Content Types that Gain the Most Traction:
Topical news – Relevant to the target audience. People are likely to share content that is related to a current event.
Visual – Before and after images, as we pointed out has a viral affect. Along with other imagery.
Expressive – Content that expresses a certain point of view. Works well if the company knows their positive brand attributes and can tie them in to related posts.
Target-specific – Posts that resonate most with an audience and it takes a little testing to figure out what works best for each community.
Funny – We can keep this type of post professional and still be entertaining by using with comments on happenings and images of staff
Engaging – Comments, shares, 'like' promos which reward a user for engagement on your Facebook page
Controversial – News article post about bad surgery or a scandal involving a prominent member of the business community.
Vital – E-blast and Specials for your practice or business
Authoritative – Blog articles on areas of specialization such as particular surgeries in the case of our clients.
Celebrity/Pop-Culture – Similar to "Topical News" we've seen the public is hungry for celeb stories especially related to surgical procedures (gone well and badly)
Stay in Touch
For your Social Media strategy needs, be sure to contact us today via e-mail or phone. Don't forget to stop by one of our Social networks such as our Facebook page or our Twitter and leave us a message. We'll be sure to get back to you as soon as possible.
zp8497586rq