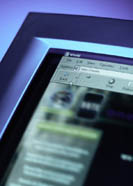 Simple may not be a term you'd ideally want applied to your website. Nevertheless, whether marketing cosmetic surgery practices or any other business on the Internet, simplicity does have its merits. In fact, to successfully market your plastic surgery practice, simplicity is a must, at least as far as your site's navigation goes.
Navigation is the backbone of any site and, as such, it must be simple and easy for visitors to understand. The following are two great tips for creating a simple navigation system.
Easy To Understand Link Titles
This may seem obvious, but too many websites don't follow this rule. Sometimes what may seem easy to understand to you can be confusing to others. Make sure that your link titles are easy to understand so that visitors know exactly what link to click to find the information they want and exactly what they'll be getting when they click on that link. If your visitors aren't certain what's at the other end of a link, they may be less likely to click on it and more inclined to go to another site. A link that can't be understood is doing you no good and simply taking up space.
Again, it's important to keep in mind that what may seem clear to you may not be so clear to your visitors. You're close to your own business and your website, but visitors to your site won't know as much about your practice or even about plastic surgery as you do. In fact, they may have no background knowledge at all. This is particularly important when it comes to your terminology. For instance, visitors to your site may have no idea what blepharoplasty and may be more likely to know what eyelid surgery is. Similarly, avoid using clever terms that are meant to get your visitors' attention but may be more likely to confuse. Remember that Internet users are a hurried lot, wanting the information they're seeking right away and not inclined to take the time to play guessing games. Anything that isn't straightforward and clear or that can potentially obscure what your links are about should be avoided.
Navigation Kept To A Minimum
It's best to keep your navigation to a minimum. Because too many choices can lead to confusion and an inability to focus, you should make the amount of options you give to visitors manageable. Your visitors may not be able to recognize their individual options if they're faced with an overwhelming mass of links. Ideally, there should be no more than five to seven options on your navigation menu. If you really must have more, at the very least group them into a few categories.
Another benefit of limiting your navigation is that it can help to accomplish your website's intended goal. Remember, your goal is to turn your site's visitors into patients. Your site must be designed to accomplish this goal, leading visitors through a series of steps that ultimately end in their contacting you. If you offer visitors too many options, they can be sent off into too many directions that deviate from that goal. On the other hand, by limiting options, you can better steer your visitors in the direction you want them to go.