Pinterest without a doubt is one of the fastest growing social media platforms for brands, with over 19 million users it is definitely a medium all brands should explore. Why Pinterest? Pinterest is a robust visual platform that allows members to either like, comment or share your products that are displayed on your boards. Giving your products the ability to go viral and in turn cause positive site referrals and positive ROI.

The reason's Pinterest stands out?
Primary demographic are females
80% of pins are repins, which assist in virality
Pinterest is like a visual bulletin board for the web, and people love bulletin boards!
The Pinterest community thrives on engaging images and ideas grouped together on a users page.
Users can follow one or more boards depending on their areas of interest.
You can view or locate boards based on a subject, topic or theme.
Some important terms you'll need to know while on pinterest. Pin: refers to an image being added to a board (be that from a website, upload or repin) Repin: a repin is like taking a pin of interest from another person's board and re-sharing it. Board: boards are a great place to create theme based boards (Skincare, haircare, healthy food)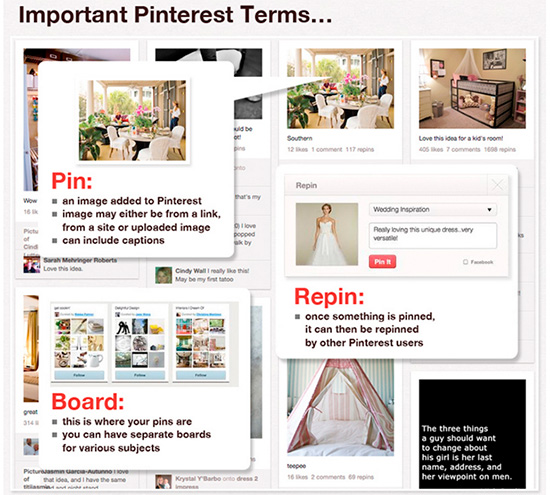 Cosmetic surgery practices can benefit from using pinterest. Not only does it provide a clean platform for practices to present before and after patient photos, but it also allows practices to supply their followers with healthy food options, lifestyle tips, motivational sayings or anything they feel will help connect with their audience. As the social web develops and evolves, social networking is becoming an essential part of SEO and brand recognition strategies. Building an online community not only assists your practice brand grow but, also keeps your practice in the mind of possible future clients. Quick tips on using Pinterest to build links and relationships…
Identify bloggers in your niche market – doing this can prove valuable as you build a relationship with someone who already has an interest in the products or topics you provide.
Follow up on pins from your website – this may be time consuming but identifying users who already love your product makes it easier to partner with that contact to build link opportunities.
Find followers of your brand – Who follows you already? Search through your current followers and find a blogger who already appreciates your brand. Build on that.
Search for popular pins – Search for topics that your followers may be interested in, and from there, determine which users are ahead of the pack for these terms. If these users are ranking high in pinterest, they may be of some value to you.