A sticky website is a website which contains applications or services that keep users on the site and keep them coming back. Sticky elements can include chat rooms, blogs, glossaries, educational material, newsletters, latest news, stock quotes, competitions, interactive games, user reviews, and so on. When it comes to cosmetic surgery advertising, creating a sticky site is very important.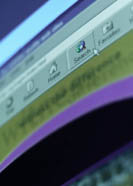 For users, the Internet has the advantage of allowing them to link anywhere in an instant, including out of your site and onto another site. This can be a great disadvantage for the website owner, which is why it's important to create a sticky website. Your plastic surgery website must be able to grab a user's attention, keeping them on your site and coming back.
There are many factors that contribute to the level of stickiness on your site, including the appeal of your site and its usability. Your content is also a major factor. One of the easiest ways to increase your site's stickiness is to regularly update your content. This should definitely include your text, but it can also include your images and even other elements of your site's design which can be occasionally changed. By providing fresh, valuable content, your visitors will have a reason to come back for more.
For even more stickiness, you might consider adding a discussion forum, picture galleries, testimonials, a blog, a newsletter, and so on. Discussion forums are one of the best ways to keep your visitors coming back to your site and, further, it's the actual visitors who create the sticky content for you. Another version of this the Q&A column in which visitors post questions and you, as the expert, provide answers and advice. Picture galleries are a great fit for a plastic surgery website. You can post before-and-after photos of your previous patients and continually update your gallery with new photos. Picture galleries are somewhat sticky but increase in stickiness when visitors are able to post their own photos and when photos can be rated and commented on by visitors. Of course, this is likely not that appropriate for your plastic surgery website. Continually updated testimonials can also increase stickiness, as well as blogs and newsletters.
Update your site on a regular basis and incorporate some interactive features that allow visitors to update content as well. In so doing, you'll up your site's stickiness factor and keep your visitors returning again and again.