Here's a scenario you might find familiar — you're driving down the interstate in the middle of nowhere, and someone in the car is hungry/thirsty/has to make a pit stop. You want to find a gas station or a fast food joint nearby . . . but where exactly are you? Thus began the rise of "near me" searches — people using Google or some such search engine to find businesses, usually within a 5 or 10 mile radius and almost always with smart phone or other mobile device.
As people became accustomed with the ability of their phone to identify their specific location, they have become less and less likely to use a geolocation term and more and more likely to use a vague yet more natural phrase such as 'near me', 'nearby' or 'nearest'. Check out the stats — since about 2013, searches that include 'near me' have gone up 1500% (!!!) with 'nearby' and 'nearest' also showing significant increases.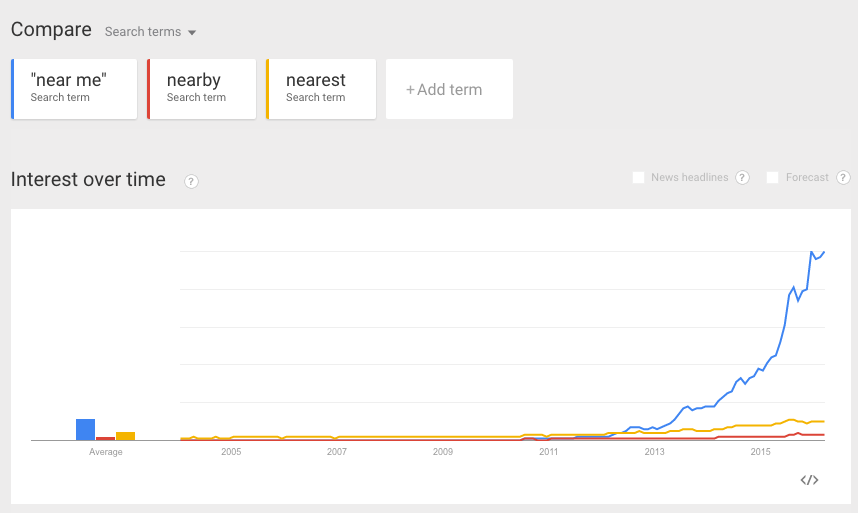 Local SEO Effects
Of those who do local-based searches of the 'near me' variety, the overwhelming majority choose results that come in the local pack. Over the last year, the real estate of Google's local pack has shrunk, from 7 results to 3, making positioning here extremely valuable.
How then, does a site optimize for these 'near me' searches, and how can they show up in the local pack?
Local SEO 101
Quite succinctly, make sure your site is following local SEO best practices:
Quality website — don't have an old, slow site! Make sure you're mobile-friendly!
Standardized NAP — Your business name, address, and phone number need to be standardized across all platforms, including your website, and all of your local business listings
Optimize Google+ Page — known alternately as Google+ or Google My Business, this is a maddening platform that can yield big dividends if managed correctly. Make sure your have your business info, services, photos, and more on this page. And don't have more than one page per location!
Reviews — get a ton of reviews! Try to get customer feedback across many different platforms, including Facebook, Yelp, and especially Google+. Data shows that reviews are a significant value in Google's organic algorithm.
Increase links from local businesses — are you part of a local business group, or do you have a lot of friends in the area that have websites? Any links you can get will help, but local links will do much to increase your local cache.
Extra Tip: 'Near Me' As Content
It can't hurt to add the keyphrase that is rapidly increasing in your actual website! A recent study performed by CDK Global demonstrated that placing 'near me' as content in a website increased clickthroughs by 81%, and impressions increased by 15%.
Local SEO should be on the mind of any business owner with a bricks-and-mortar location; but it's not just the geotargeted keywords that you need to concern yourself with. 'Near me' searches — even general searched that get localized — are an enormous factor in the local SEO game.