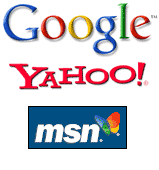 The Google Sandbox' is the term that's used to describe the period of time in which Google evaluates new websites before they are able to attain their best possible rank, and sometimes even show up, in search results. While it can be very frustrating having your site stuck in the sandbox, you don't have to just sit around and twiddle your thumbs. In fact, there are several things that you can and should be doing during the delay.
Delays aren't nearly as long with other major search engines like Yahoo and MSN. As such, you can consider the results you get with these search engines as a sort of test for your Google results. If you're not ranking well in the other search engines, you likely won't rank well in Google either once you've made it out of the sandbox. Carefully examine your results with Yahoo and MSN, and do some fine tuning or tweaking as needed. This will not only help you with your immediate results but should also help your site once it does appear in Google.
While page optimization and content are important factors in Google's ranking algorithm, links are also very important. The more quality inbound links you have to your site, or links from other sites to your site, the better. Google considers each of these links as a popularity vote of sorts. During your delay, spend some time working on link exchange and building more complementary inbound links for your site.
If, in the meantime, you feel that you're in dire need of more traffic, you can always consider pay-per-click programs like Google Adwords and Yahoo Overture. Though you will have to pay for your increased traffic, it may well be worth the extra expense, particularly in the beginning. Another added benefit of PPC campaigns is that they can help you to determine the keywords that work well for your site, which can be used to better optimize your site in natural results.