As a digital marketer, incorporating search engine optimization (SEO) into your online marketing strategy is crucial. By obtaining SemRush and BrightLocal certifications, your team can greatly enhance SEO effectiveness, attract more website traffic, and boost conversions. In this article, we'll explore the reasons why investing in SemRush and BrightLocal certifications can help you achieve your goals. We'll highlight the advantages of these certifications, such as improving search engine visibility, elevating keyword rankings, and gaining valuable insights into user behavior. Lastly, we'll provide tips on maximizing the benefits of these certifications and unlocking their full potential for your marketing efforts.
Importance of SEO certifications for businesses
SEO certifications are a game-changer for businesses in today's digital landscape. They hold immense importance in shaping your online success. By embracing an SEO certification program, you can transform your marketing strategy and achieve remarkable outcomes. Investing in an SEO certificate not only showcases your dedication to content marketing but also sends a strong message to potential customers that you are equipped with serious marketing skills. It's tangible proof of your business's expertise and understanding of the latest SEO strategies, giving you a competitive edge in search engine rankings. Moreover, a certified team elevates the credibility of your website and business, fostering trust among customers.
Benefits of SemRush certifications
SemRush certifications are a valuable asset for businesses seeking to enhance their digital marketing prowess. Designed to cater to companies of all sizes, this program offers an array of topics to bolster your SEO strategy. What sets it apart is the practical approach it takes, incorporating real-world experience through engaging case studies and interactive exercises. From mastering the fundamentals of SEO, such as keyword research and optimization, to delving into advanced techniques like organic traffic generation and link-building strategies, the certification equips your team with practical knowledge that delivers results. By obtaining SemRush certifications, you ensure that your team is well-versed in the latest SEO best practices, primed to make a significant impact on your marketing endeavors. With SemRush by your side, success is within reach.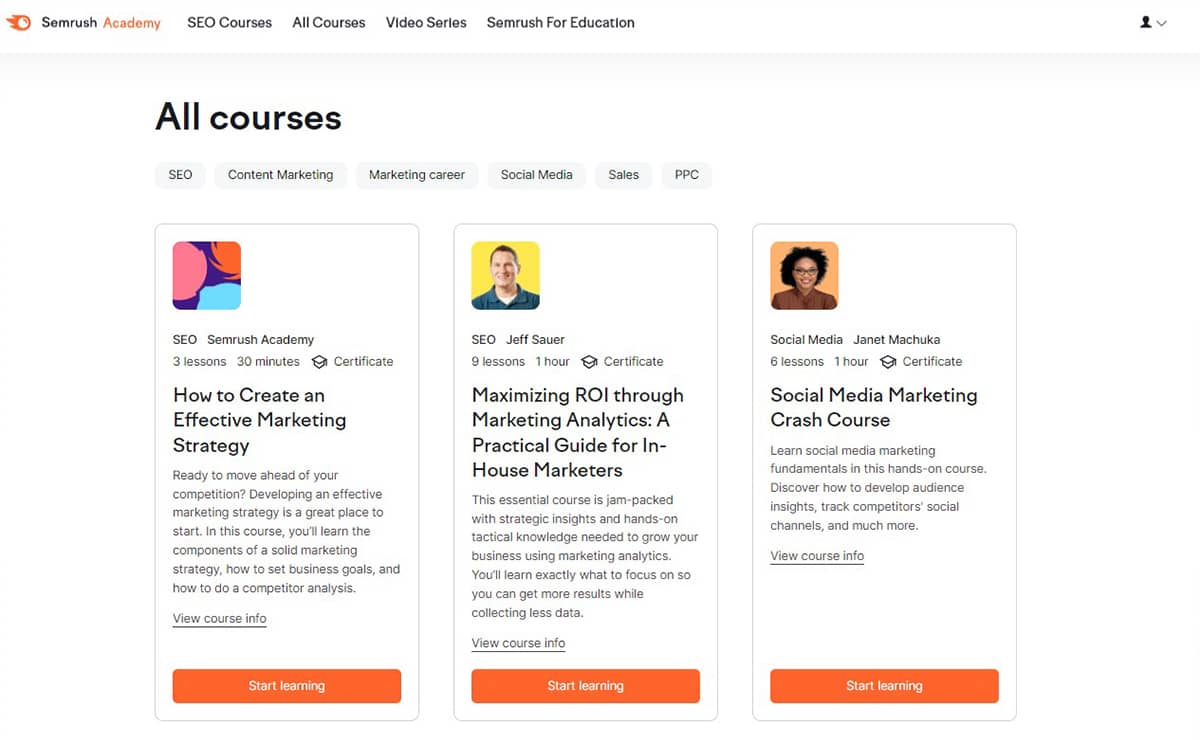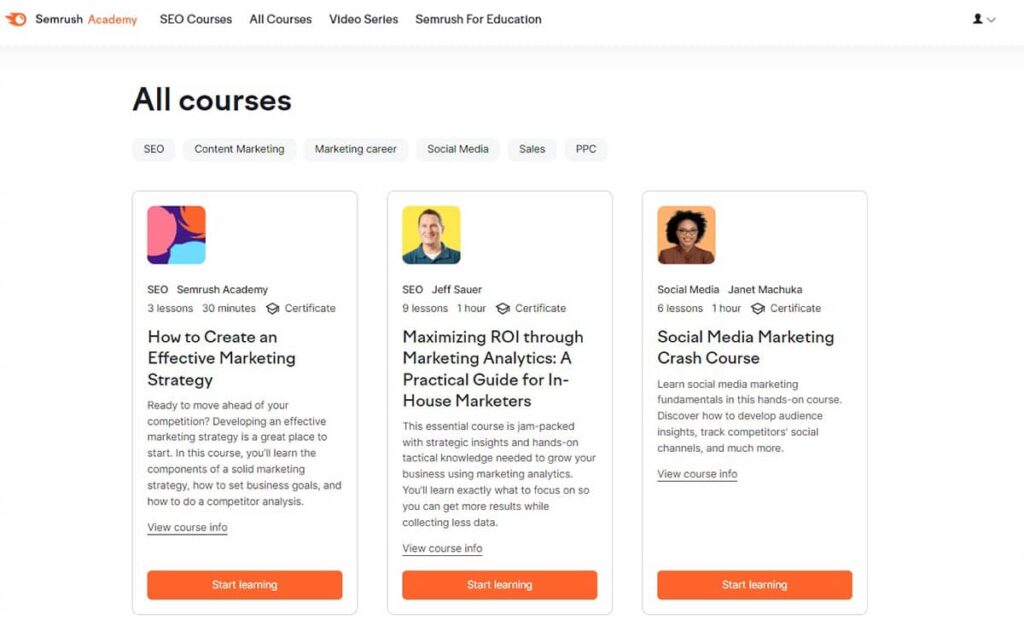 How to obtain SemRush certifications
Becoming certified with SemRush Academy is a breeze! It's a straightforward and simple process that sets you up for success. To get started, just create an account on the SemRush Academy website. Once you've signed up, you're free to choose the courses that perfectly match your needs. From there, a wealth of valuable content awaits you: engaging lectures, interactive quizzes, and insightful exams – all designed to guide you through the certification program. By successfully completing every aspect of the program, you'll proudly earn a well-deserved certificate, showcasing your mastery of SEO fundamentals and advanced strategies. Armed with this qualification, your business can thrive! It will enjoy improved visibility in search engine results and gain a valuable edge over competitors in the vast world of online marketing.
Some of the best courses you can find in Semrush are:
SEO Fundamentals Course with Greg Gifford
Technical SEO With Bastian Grimm
Keyword Research Course With Greg Gifford
Competitive Analysis and Keyword Research Course
Backlink Management Course With Greg Gifford
Link Building Course
On-Page and Technical SEO
Rank Tracking Course
Mobile, International, and Local SEO Courses
Benefits of BrightLocal certifications
BrightLocal certifications bring a wealth of advantages to businesses, helping them proudly demonstrate their commitment to SEO and effectively convey the importance of certifications to potential clients. Obtaining an SEO certificate serves as concrete proof of your team's expertise in the latest and most effective SEO techniques. What's more, BrightLocal certifications provide access to a treasure trove of video content, allowing you to quickly grasp the core principles of SEO. Having a certification also allows customers to gauge your actual skills and capabilities, instilling a sense of confidence in your ability to proficiently handle their marketing strategies.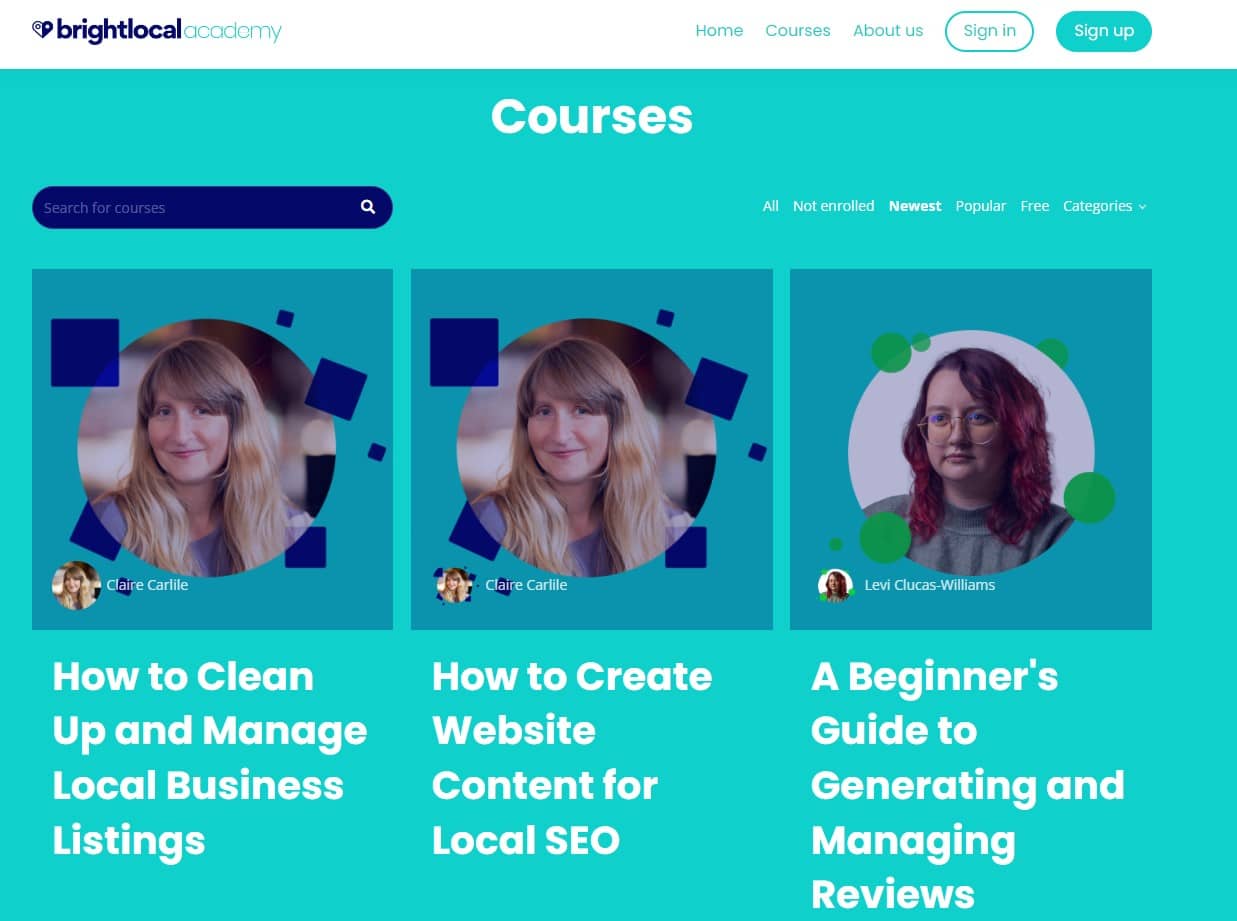 How to obtain BrightLocal certification
Getting certified by BrightLocal is a breeze! First, hop onto the BrightLocal website and create your account. Once you're all registered, pick the certification course that tickles your fancy. They've got a bunch of categories to choose from, so you'll definitely find one that fits your level of experience. When you've finished all the coursework, you'll score yourself a shiny certificate of completion. This certificate proudly displays your SEO skills to potential customers. So go ahead and show off your qualifications, and businesses can trust that their marketing game will be on point!
Some of the best courses you can find in BrightLocal are:
How to Optimize Location Pages
A Beginner's Guide to Local SEO
How to Master Local Keyword Research
How to Create, Optimize, and Manage Google Business Profiles
How to Perform Local SEO Audits for Multi-location Businesses
Importance of having certified team members
Building a team of certified professionals is crucial for businesses aiming to maximize their SEO success. Certified training and certificate programs empower individuals with the skills and knowledge they need to excel in their desired career field. By obtaining a certification, employees can apply their newfound expertise in real-life situations, significantly boosting the effectiveness of a business's SEO endeavors. Moreover, having certified team members enhances credibility and expertise when it comes to digital marketing campaigns. Customers can have confidence in your staff's up-to-date understanding of SEO strategies and tactics, allowing them to confidently entrust their projects to your agency or organization. This not only fosters trust but also provides customers with peace of mind, knowing that qualified professionals are handling their marketing campaigns.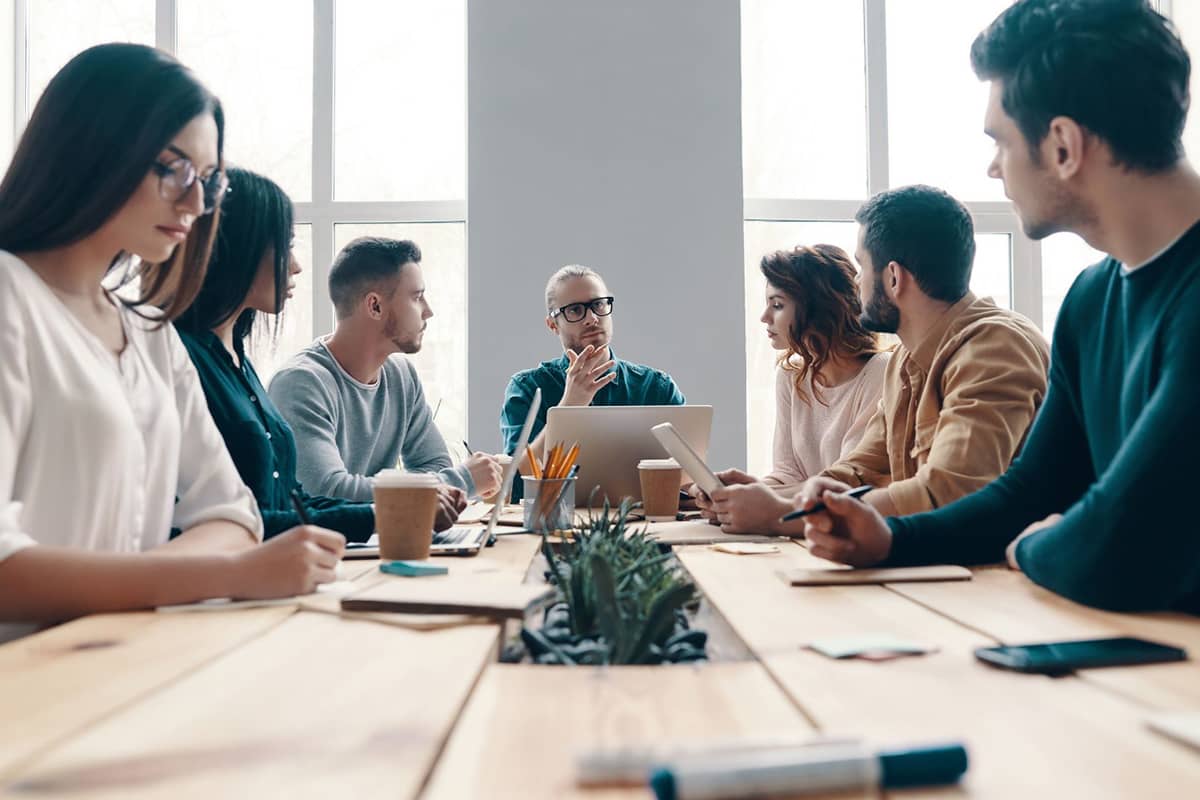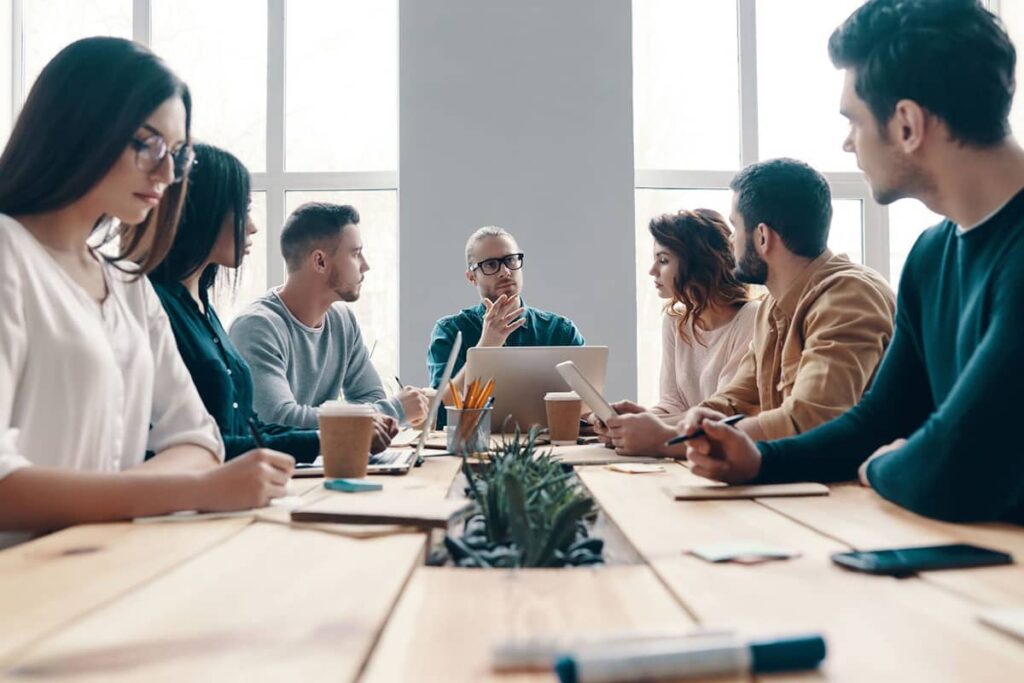 Furthermore, having certified team members enables you to offer more comprehensive SEO services, leveraging industry best practices and staying ahead of emerging trends when crafting strategies for clients. Overall, providing certifications in SEO can elevate your business's reputation in the industry while equipping your team with valuable skills and knowledge for a successful marketing career.
How to maximize SEO success with certified team members
Leveraging the knowledge and expertise of certified professionals
By leveraging the knowledge and expertise of certified professionals, businesses can maximize their SEO success. Certified professionals are highly experienced and trained in the latest SEO strategies, giving them an edge when it comes to optimizing website content and improving a business's digital marketing campaigns. With their help, businesses can ensure that their online presence is optimized for search engine algorithms, helping to drive more traffic to their sites. Furthermore, these certified team members have the skills necessary to identify and employ powerful SEO tactics such as building links, managing Google Analytics, or creating content that appeals to audiences. By utilizing certified professionals, businesses can confidently approach any SEO challenge with confidence that they are equipped with only the best experts available!
Utilizing SemRush and BrightLocal tools for effective SEO campaigns
By using SemRush and BrightLocal tools for SEO campaigns, businesses can maximize their SEO success. These two industry-leading tools provide professionals with powerful insights into the effectiveness of their strategies. With SemRush, users can identify high-performing keywords and backlinks that are driving traffic to their website, while BrightLocal provides data on local search visibility and online reviews.
With these tools, businesses can ensure that their content is optimized for search engine algorithms and that they are achieving maximum exposure in local markets. In addition, both tools provide detailed reports so businesses can track their efforts over time and adjust their strategies accordingly!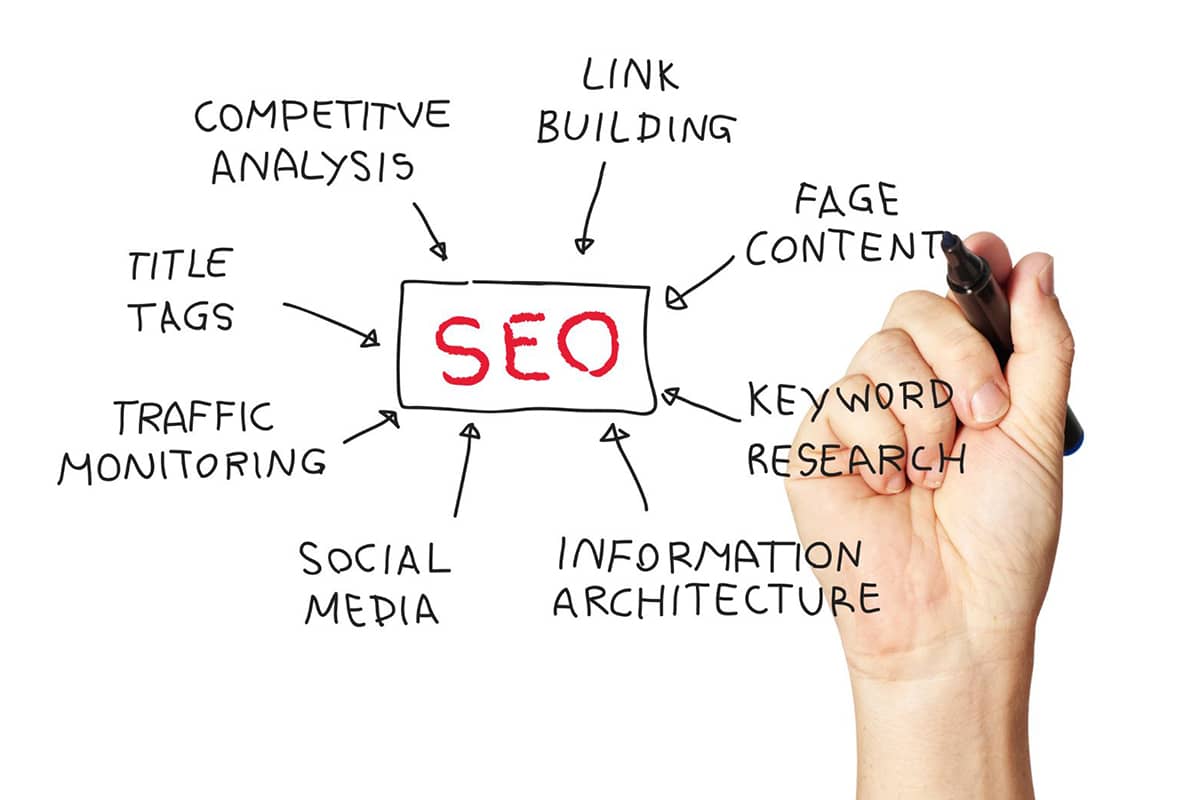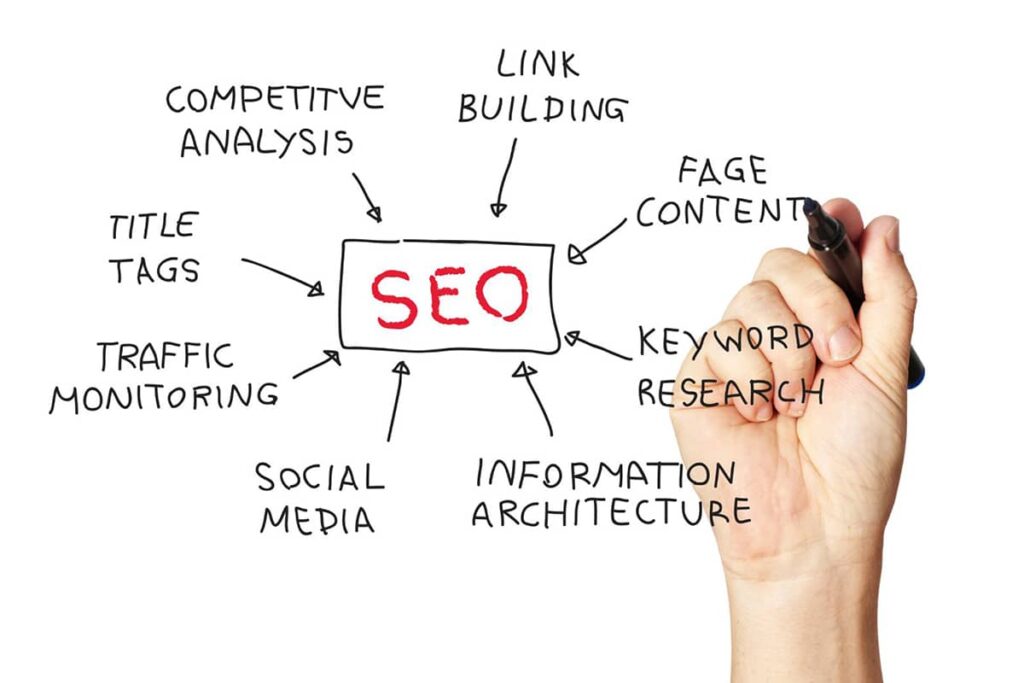 Showcasing certifications to attract and retain clients
Having certified team members can be an invaluable asset for any business looking to attract and retain clients. Showcasing certifications demonstrates a commitment to SEO expertise, technical knowledge, and SEO training programs, which in turn shows customers that the business is serious about their career goals. Providing proof of certification also reassures loyal customers and clients that the business values the certifications it has achieved in the field of SEO. With certified professionals on board, businesses can rest assured that their campaigns are being run by experts with up-to-date knowledge and experience in digital marketing. This can help strengthen customer relationships and boost conversions!
Conclusion about SEO Certifications
To sum it up, investing in SemRush and BrightLocal certifications is a game-changer for your team. These certifications are the key to equipping your team with the essential SEO knowledge they need to craft highly effective strategies and campaigns that drive maximum SEO success. With hands-on experience and access to industry-leading insights from these platforms, certified professionals are primed to deliver top-notch services to clients. By investing in SEO certifications, you not only demonstrate loyalty to your customers but also establish trustworthiness within the competitive SEO industry. It's a win-win situation that propels your team and business to new heights.
For those who are looking for reliable and professional SEO services, Surgeon's Advisor is the perfect choice! Our team of SEO expert professionals has obtained specialized certifications from both SemRush and BrightLocal – ensuring that they have all the knowledge and skills to create effective strategies that will maximize your SEO success. Let our certified team help you reach your business goals – call 305-677-8235 to speak to one of our digital marketing experts today!