Every now and then our Facebook page finds it is stuck up against a social brick wall and the number of friends just seems to stagnate. Now is a good time to take a look at what you have been doing right to increase your Facebook following as well as the things you may have been doing wrong.
Start by reaching out to other page managers whose target demographics are similar to yours. Make a live connection with like-minded page managers and consider opportunities for cross-promotion to share resources and increase Facebook posts. Peer-to-peer business connections through social mediums such as webinars, for example, can help to increase your page visibility and product or service recognition.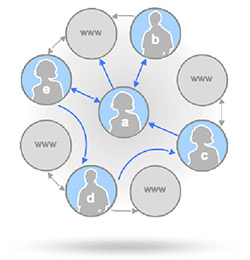 You might also consider sharing of social content by adding original work or photos to your Facebook page. It's true that a picture, properly referenced, can tell 1,000 words about your business. Always be mindful of copyright laws, however.
Another good tip is to link your profile to your Facebook page. This makes it easier for users to find you and your business page as well. You can also add your Facebook page to your email signature and take advantage of the large volume of emails you receive daily. It's easy to do this on your Gmail account with a feature that allows you to add clickable icons to your email signature.
It's especially good to know what other people are doing on their Facebook page. You can frequently comment on other pages as this can help to increase exposure for your Business Page and expand your target audience. Look for similar or complimentary Facebook pages and like them as your page.
By using your Facebook page as your business in the same way you use it personally, it can help you to build relationships and personal connections and increase your Facebook following. A linked Like Box on your website is another great source of likes for your Facebook page. Get to know where your likes are coming from, and why.

Some Facebook pages will run contests to increase the number of likes for their business page and help to promote a product or service. You can advertise your page on Facebook by using a sponsored Like Story. This advertises your page to friends of your current likes and provides "social proof" in the ad that the user's friend likes your page.
Remember, a friend of your fan is a new friend who can help you to grow your Facebook following.
Need help figuring out how to use social media the right way? Contact your Surgeon's Advisor Account Manager, or email accounts@surgeonsadvisor.com to answer all of your site-specific concerns.