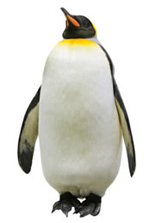 Google recently announced the Penguin update to its search algorithm. Not surprisingly, it created an uproar in the online/internet marketing community. Moreover, clients have been e-mailing us with essentially the same question "How will this affect my rankings?"
There's no need for panic. Google is simply trying to reign in the organic search results and filter out spam. It helps to think of it as warfare – Google doesn't attack the civilians just the enemy. And in this case, good sites, which have fresh and unique content and don't employ underhanded SEO techniques are in the clear.
That's why I always tell clients that it's so important to be active on their websites. Google will reward you for updating your sites regularly because it keeps it relevant and drives new and return visits. Imagine if every time you went to a restaurant they had the same specials. Would you be excited about eating there? Probably not. Google is treating your site in a similar way. You might think this means churning out hundreds of blog posts, content pages, and photos. Not necessarily. Even a few blog posts per week and a monthly article can really make a difference.
Noteworthy, is the fact that a very small percentage of sites were affected. But if you are unsure about your site, or where to start, you might consider contacting an internet marketing firm to get answers.