To keep you abreast of our current initiatives for your overall online presence we want to address some of the most recent changes from the most popular search engine, Google.
In an attempt to have the most positive user experience Google is constantly updating their algorithms and applications for a more "user-friendly" approach. This month Google made the switch from Google Places to Google+ Local – meaning a new layout for your local business listing, a new rating system, a new location for the "Local" tab within Google+ , the integration of Google+ Local pages across Google properties such as search, Maps and the mobile version as well as the integration of a circles filter that allows you as a Google+ user to find reviews/recommendations from those in your circles.
What part of this concerns you?
The new rating system. The other changes are just updates to the Local experience but the ratings have changed from a 5 star scale to the newly implemented Zagat scoring system. Every listing will now be scored on a 30-point scale. The individual users will now complete a form rating their experience with a practice from 0-3 and be able to provide personal feedback. The 0-3 rating will then be multiplied by 10 and this resulting number will be the score that is averaged with other user experiences for your overall business listing score.
For example if User A rates your practice as a 2, then their end rating would register with Google+ Local as a 20. Then if User B then rates your practice a 3, their end rating would register with Google+ Local as a 30. Giving your overall practice a Google+ Local score of 25. ([2 x 10 = 20] + [3 x 10 = 30]. 20 + 30 = 50/2 = 25)
So what happens to all of the reviews you had? The username will be changed to "A Google User" and the previous 1-5 star score will be transferred to the 0-3 rating system they will still be there.
These new changes have been shown to affect the actions to the site. For clients of Aesthetic Reviews we are working to add more reviews and push a positive score for our clients in this new scoring system.
With these changes we are also installing authorship codes to your site(s) so that you will appear as an authority in the search result pages. This includes the implementation of your Google+ profile and will help to establish your online presence among Google users.
Here's how the user will see their new review form below.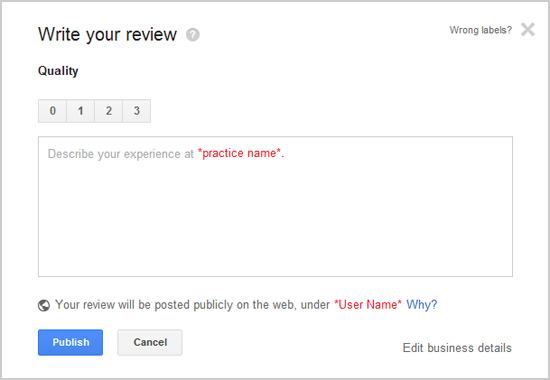 If you'd like more information, below are some links to new coverage and informative blogs.  Also, feel free to set up a call with us at Surgeon's Advisor (305.763.8011) or Aesthetic Reviews.
Links:
Google's New Local Rankings Costing Businesses Clicks? from WebProNews
Google Places Is Over, Company Makes Google+ The Center of Gravity for Local Search from Search Engine Land