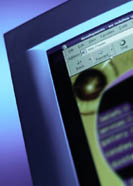 One of the greatest things about advertising on the Internet is that it tends to level the playing field. Even the smallest companies can compete right up there with the largest corporations. This is also true when it comes to plastic surgery advertising on the Internet. You may be a little plastic surgery practice in a big city of plastic surgery giants, but on the Internet and with your website you can successfully compete against the best of them.
Though your practice may be a small one, that doesn't mean it's any less professional. As such, your website shouldn't be any less professional either. The following are tips to boost your online image and give your small practice website that polished, large practice look:
Columns. Web sites for large corporations tend to use a multiple-column layout rather than just one or two columns. Consider designing your pages with three to four columns.
Consistency. Whatever logo and overall design you use, keep it consistent throughout all of your pages. Every page shouldn't look like a whole separate site.
Contact Information. Make sure that you include a physical address in your contact information. This adds more credibility to you and your site, letting visitors see that you actually do exist. If possible, also add a 1-800 number.
Content. Be sure to provide lots of useful content on your site, including a FAQ, lots of articles, your practice history and personal information, and maybe even a newsletter.
That Professional Look. Your website must have a professional appearance. Homemade sites often look, well, homemade. Use high quality web templates or a good web designer.
The Catch-All E-Mail Account. With a catch-all e-mail account, anything and everything sent to your domain automatically gets to you. This means that anything sent to anything@yourpractice.com, joe@yourpractice.com, jane@yourpractice.com and so on finds its way to you.
Translate. While this may seems silly, adding a Translate To Another Language' link can be very effective. It tends to make you appear larger and of interest to a larger audience.
Your Logo. Make sure that your website has a high-quality logo on it, even if it means hiring a professional graphic designer.
Your Own Domain. Those free domains may be attractive, but they're really not in your best interest. If you don't have your own domain name, get one quick. Without one, you have virtually no credibility and, further, they tend to be so long that no one will ever remember you. In addition, having your own domain allows you to have multiple business e-mail address, such as support@yourpractice.com, drsmith@yourpractice.com, and so on. This allows you to create multiple departments' within your practice, thus giving it the appearance of a larger one.
While making any of these changes, keep in mind that some prospective patients may appreciate some aspects of the small practice feel. While giving yourself a larger, more polished look, be sure to retain those important smaller features like good customer service.