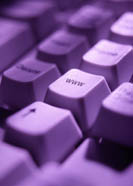 The font you use on your website doesn't just affect the appearance of your site, it also affects your site's usability. Though you may have hundreds upon hundreds of fonts loaded on your computer, not everyone else does. If a person visits your site and it contains a font that is not loaded on their system, that font won't be properly displayed for them. This can make it difficult, if not impossible, for them to view and use your site.
Some designers attempt to solve this problem by allowing visitors to download and install, if necessary, the font they have used on their site. This is not a good or even adequate solution. Much like plug-ins, most visitors simply won't take the time to download a new font. Instead, they'll most likely go to another site.
Because of this, it's important that you choose your fonts carefully. To ensure that your web pages look and function properly on a variety of platforms and browsers, you should limit the fonts you use to those that are installed on the majority of systems. These typically include the following fonts: Verdana, Arial, Trebuchet MS, Georgia, and Comic Sans MS. Examples of these are shown below. When selecting a font, specify both a primary and secondary font for your pages. This increases the chance that your page will appear correctly for the majority of your visitors by giving their systems two choices. If the primary font isn't loaded on a visitor's system, the secondary font, if loaded, will be used.
This is the Verdana font, a no-nonsense sort of font.
This font is Arial and it looks quite similar to Verdana.
This font is Trebuchet MS. It is similar to both Verdana and Arial but with a tiny bit more pizzazz.
This font is Georgia. It is a pleasing font with a more decorative look .
This is the Comic Sans MS font and it's quite a bit more playful than the others.