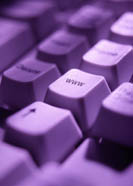 When it comes to cosmetic surgery advertising on the Internet, or any advertising for that matter, grammar and spelling errors can have a very negative impact. These errors are generally very easy to fix. After all, you can typically use a simple spell checker. However, far too many websites out there don't pay enough attention to their spelling and grammar.
It's a shame to have all of your design and optimization efforts go to waste because of a simple spelling error. And while this may sound a bit dramatic, grammar and spelling errors can discredit you, decreasing your credibility and professionalism. The following are some of the most common errors found on websites.
Accept/Except – With these two, it's easiest to remember that the 'x' in 'except' excludes things. Also be careful when typing 'except' as if often turns into 'expect'.
Affect/Effect – 'Affect' means 'to have an influence on'. The 'effect' is the result of the influence, though it can also mean 'to create'. In most instances where these words are confused, affect is the verb, effect the noun.
Assure/Insure/Ensure – To 'assure' a person is to make them confident of something. To 'ensure' is to make certain that something happens. To 'insure' is to issue an insurance policy.
Compliment/Complement – A 'compliment' is usually a nice thing said about someone or something, while 'complement' usually refers to matching or completing.
It's/Its – 'It's' is a contraction of 'it is', while 'its' is the possessive form of it.
Lose/Loose – The easiest way to remember the correct spelling of these two words is to first say the word aloud. 'Loose' has an S sound, while 'lose' has a Z sound.
Moot Point/Mute Point – Simply put, the correct one here is 'moot point' not 'mute point'.
Principal/Principle – The word 'principal' can be a noun or adjective referring to something or someone of higher rank or importance, while 'principle' is a noun referring to law, doctrine, policy or truth.
You're/Your – Like it's and its, 'you're is a contraction of 'you are', while 'your' is the possessive form of you.