Colors, whether on a website or in real life, invoke certain moods, and their proper use should be considered in your cosmetic surgery marketing plan. Colors can soothe or excite, they can sell, entice and persuade, they can inspire and even frighten. On a website, the colors used help to set the tone for a visitor's experience. Further, visitors will form an impression of a site within a matter of seconds, and much of that impression is derived from the colors that have been used and the mood that they have created.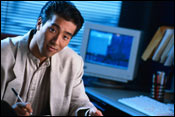 The importance of color is often under recognized in web design. In fact, the vast majority of sites on the Internet today have been created with poor color choices and combinations. In many cases, the colors are overdone or inharmonious. Further, many web designers choose colors for themselves, or those which they find pleasing, as opposed to colors which might appeal to their particular audience.
One of the easiest way to get started with color and web design is to consider the particular product or service. There may be a color that is naturally associated with it, making the choice of color an easy one. If not, there may be a particular emotion or mood that the product or service invokes, or one that you want it to invoke, and color choice can be based on that emotion or mood.
It's important, too, to consider your target market. Certain colors will be more pleasing to different age groups, genders, nationalities and so on. For instance, when it comes to gender, men generally prefer blue over red and orange over yellow, while women generally prefer red over blue and yellow over orange. When it comes to nationalities, purple is generally considered a bad choice across the globe. For instance, purple symbolizes death and crucifixion in Catholic Europe, as well as many spiritual beliefs and mysticisms, such as Wicca and paganism, that go against Christian, Jewish and Muslim paradigms.
Color is generally divided into two categories: warm colors and cool colors. Warm colors include yellow, orange and red. They're generally associated with heat, warmth and energy, and are considered high-arousal colors capable of creating excitement or even anger. To the viewer, warm colors tend to appear closer and larger than cool colors. Neutrals of black and brown also carry warm attributes. Cool colors include blue, green and violet, as well as neutrals like white, gray and silver. They're associated with the sea and sky, and tend to be more calming and soothing. Cool colors are generally considered low-arousal colors and they often appear further away and smaller than warm colors. In general, warm colors are often good when used in the foreground, while cool colors often make good backgrounds.
---
A Closer Look At Warm Colors for Your Doctor Web Pages
Red is not only a warm color, but a hot color, the hottest of the warm hues. It is a strong color capable of evoking strong and passionate emotions, even violent ones. It evokes feelings of excitement and power, but it can also be associated with danger. Red is a stimulant and has been shown to raise the blood pressure, increase the rate of respiration and stimulate the senses. A little bit of this color can go a long way and it is better in small doses. It can be used a contrast color to grab attention, forcing a viewer to stop and take notice. It can also be used to get people to take action as it is often suggestive of speed and confidence.
Pink is much like red, but a bit softer, a bit sweeter, and less violent. It's often associated with femininity, though large amounts of pink are said to be capable of creating physical weakness in a person. Also like red, pink is associated with love, but rather than hot and passionate, it's more of the tender and romantic variety. Pink may also be used to convey playfulness.
Yellow is associated with the sun and warmth, happiness and joy. Though it is generally a cheerful color, it can also carry connotations of deceit and cowardice. Like red and orange, a bright shade of yellow can create excitement. When combined with orange, it brings to mind citrus, summer and good health. Yellow is often best used as a companion to other colors and can enliven cool colors.
Orange, like yellow, is associated with the sun and warmth. It's also associated with energy and health, and is capable of stimulating emotions, thoughts and even appetite. It is less intense and aggressive than red, though still flamboyant, but it gets noticed without screaming for attention. Peach is a subtler, friendlier shade of orange that remains energetic yet soothing.
Gold is much like yellow in use, proving cheery and bright. However, it is also associated with extravagance and wealth. Metallic gold in small amounts can add a special touch, bright golds grab the eye's attention, and dark golds suggest warmth and richness.
Brown is a warm neutral that is considered earthy, wholesome and natural. Some may consider brown a bit dull, but it is also associated with dependability, honesty, friendliness, simplicity, and health. It is also an appetite stimulant. Brown can often be used in place of black, serving to be a bit more casual. Shades of brown such as tan, taupe, beige and cream can be used for backgrounds with excellent results, and they can help make accompanying colors look brighter and richer.
Black is considered a warm neutral that goes well with nearly every color combination and can make other colors appear brighter. It is often considered serious, conservative and conventional, but used correctly it can also convey sophistication, elegance, sexiness and even a bit of mystery.
---
A Closer Look At Cool Colors for Your Doctor Website
Blue is a cool color that, like the blue of the sky or the ocean, is considered calming and peaceful. In fact, it's been shown to have a calming effect on the mind and body. Blue is also associated with importance, confidence, intelligence, stability and strength, though too much blue can prove depressing. It is the #1 favorite color of Americans, with most everyone liking some shade of blue, and it is the most globally accepted color. That makes it a popular choice among many corporations and websites, and it can be used for just about any purpose.
Green is a cool color that, like blue, can also have a calming and restful effect. It is associated with life and growth, renewal and health, balance, harmony and stability. However, it is also associated with inexperience, jealousy and envy.
Turquoise, which signifies water, has many of the same calming qualities of blue and green. After all, it is a mix of the two. It is also considered a refreshing color. Lighter shades have a feminine and sweet quality while darker shades like teal are considered more sophisticated and lively.
Gray is a cool neutral that is considered conservative and balanced, sometimes elegant. It tends not to evoke strong emotions, though it is sometimes associated with moodiness and cloudiness. Lighter shades may be used instead of white, darker ones instead of black, and all shades tend to make good background colors.
Silver is another cool neutral similar to gray but generally considered more playful and lively. Like gold, it is associated with riches. Depending on how it's used, silver can be natural and earthy, glamorous and elegant, traditional and distinguished, sleek, modern, and high-tech. It can be used much like gray, but when used as a metallic small amounts are better.
White, another cool neutral, is associated with lightness, innocence, purity and cleanliness. However, too much or too bright of a white can be blinding and even cause headaches. It is mostly used as a neutral background and, like black, can be used with just about any color. It can also make other colors appear more prominent and brighter. More subdued shades of white include ivories and creams.