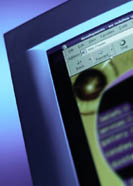 A banner, or banner ad, is a graphic image displayed on websites which advertises a product or service. When it comes to plastic surgeon website promotion or marketing plastic surgery practices, you may want to consider banner advertising. When building your banner, there are certain things to keep in mind, including the following:
Size. Banner ads are most often rectangular in shape, 460 pixels wide by 60 pixels high. There are numerous other sizes, 460 x 55 and 392 x 72 being other commonly used ones. When sizing your banner, keep to the standards. In fact, some sites on which you would display your banner ad require that your banner be of a standard size.
Content. Your banner should include a graphic design along with some great content. Keep your content short, simple, and to-the-point. Make sure that it captures your objective and purpose, as well as your audience.
Color. The colors you choose for your banner should be easy to look at, but also eye-catching. Make sure that your colors complement other elements of your banner, such as your animation.
Animation. When using graphic design animation in a banner, keep it simple and short for quick and easy download. Animation can slow load times and its essential that your banner load quickly for the majority of connection speeds.
Call To Action. Suggestions and action words can be very effective. Try using call-to-action words in your banner like click here and call now.