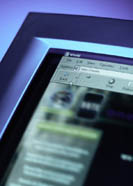 One very important, though often overlooked, aspect of good website design involves screen resolution. When creating a website, the user's screen resolution must be taken into account. Different people use different resolutions and different monitors, and the appearance of your website can vary dramatically among them.
Screen resolutions can be set to 640×480 pixels, 800×600 pixels, 1024×768 pixels, and so on. The first number, 640 for instance, refers to the number of pixels that the monitor can display horizontally, while the second number, 480 in this case, refers to the number of pixels that can be displayed vertically. As the resolution increases, with 1024×768 pixels for instance, the elements on the screen appear smaller.
Monitor size can also effect screen resolution. A screen resolution set to 1024×768 pixels may make the information so small that it's nearly unreadable on a 15-inch monitor, but the same resolution setting would be fine on a 17- or 21-inch monitor. This can impact many elements on a page, and can even effect your website's overall usability. Small navigation buttons, for instance, can become nearly illegible and, thus, make your site very difficult to use.
While you may not be able to ensure that your website is perfect on all monitors and at settings, you should at least design your site to look and perform correctly for the majority of your visitors. In general, 800×600 and 1024×768 resolutions are the most common. Also examine your visitor logs as these can tell you the browsers and browser versions most commonly used by visitors. Above all else, be sure to take the time to test your website, viewing it in different browsers, on different monitors and at different screen resolutions.