You've no doubt heard a good deal about blogs, but what exactly are they? Well, a blog is a type of website that is similar to a journal or diary. It's an individual's personal website in which they post daily comments and opinions to which others can post a response.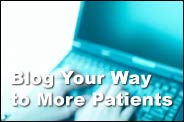 For many, however, it's become a powerful marketing tool, a place for individuals to advertise products or market themselves. (Can you market plastic surgery? Absolutely!)
They can post a message about a new product or service, and users can post their comments in response. The reason why blogs can be such a powerful marketing tool is that they're generally loved by search engines and they're easily crawled because they are content-based sites.

But do you really need a blog? Well, the answer to that is up to you. If you're willing to spend a few minutes a day on a journal entry containing your thoughts or other comments, then a blog certainly may be the way to go. One of the best ways to determine if a blog is for you is to get out there on the Internet and take a look at what other 'bloggers' are doing.