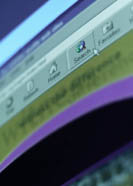 Proper color coordination is very important for any website. However, it can be argued that it's even more important when advertising doctors of plastic surgery on the Internet. After all, plastic surgeons represent an ideal of beauty. If a surgeon's website doesn't portray that beauty or an otherwise pleasing appearance, site visitors may not feel confident enough about the surgeon's abilities in order to move forward.
It may seem obvious that a website's colors must coordinate well, but too many websites out there are created with horrible color schemes. Color is very important to the design of a website. It adds interest and flavor. Websites without any color are bland and are unlikely to grab the attention of most Internet users. Further, color can be used to highlight and draw a visitor's attention to important elements of a page. Color can be used in table cells, text and graphics for emphasis.
However, colors must be chosen wisely. Too many colors or the wrong colors can have a very negative impact, detracting from a site's overall design and content. You've no doubt come across sites that have too many colors, colors that are too bright, clashing colors, or dark colors that are set against a dark background and prove impossible to read. To avoid these color mishaps, keep the following in mind when choosing your colors:
Contrasting colors. When choosing the colors for your text and your background, make sure that they're contrasting ones. For easy readability, set dark text against a light background. Though you can also set light text against a dark background, this does prove a bit harder on the eyes. Never use similar colors for your text and background as they are nearly unreadable.
Avoid patterned backgrounds. Though patterned backgrounds may seem fun, pretty, jazzy or whatever, they're really best avoided. Patterned backgrounds appear to noisy and distract from the actual content on the page. They can also prove very hard to read.
Use your colors wisely. A combination of black and yellow can prove to be a very good contrast, with the yellow catching the eye and the black easy to read against the yellow. However, a website done entirely in black and yellow really wouldn't be all that appealing. On the contrary, this color combination is best used in small amounts to emphasize important elements. Black on white is really best used as your text and background colors, with other colors used less frequently and only to highlight key points.
Simpler is often better. If you have any doubts about your colors, remember that simpler is often better. Black text on a white background is easy to read, doesn't distract from your content, and won't hurt your website. In fact, take a look at some of your favorite websites or some of the more successful ones. You're likely to find that they use black text on a white background.
Double check your colors. Colors will appear differently on different computers and to different users. Colors are generally a shade brighter on Macintosh computers than on PCs, and colors can even vary by a shade between different PC monitors. Because of this you must be flexible to some degree. But also be sure to double check your colors on different computers and choose those colors that work best on most of them.