So your Surgeon's Advisor Account Manager has come to you, yet again, with a list of design recommendations of which you're leery about following. You're happy enough with your site design, it's the style you want, it's the look you're going for…BUT WHAT IF it isn't the best for your potential patients? Multivariate Tests—find out why you need it below.
What the HECK is Multivariate Testing?
A/B and Multivariate Tests take the guess work out of understanding what your demographic wants with a precise percentage based tally of your website traffic. Multivariate testing shows precisely what your clients are looking for, where they click, and what they ignore.
Multivariate testing compares a high number of variables (ratio based on your website traffic), and reveals information about how these variables interact with one another. Traffic to a page is split between different versions of the design. The purpose of a multivariate test, then, is to measure the effectiveness each design combination has on the ultimate goal. It is important to note that while these tests are running, staff and networking do not interact with these pages as they impact the live test.
How Does Testing Impact My Existing Content?
The following are elements on a page that are typically included in a multivariate test (listed in order of importance):
Headline and heading
Call-to-action buttons (color, text, size, placement)
Text copy (content, length, size)
Image (type, placement, size)
Form length
In some cases we have found the need to remove several elements of text for a more concise page with simple call outs. In other cases, we may need to add certain elements that are lacking in the design. Color and imagery all play a major part in funneling a potential patient through to the final conversion, which is filling out the contact form.
What Happens Once Testing is Completed?
Surgeon's Advisor has already begun implementing multivariate testing for clients.
Google ended 2 week test calling variation page the Winner after 415 visits.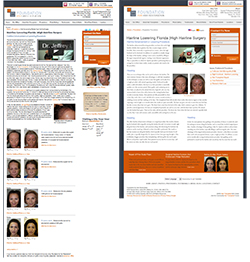 Old Design (left) vs. New Winning Design (right). Note brighter colors simplified images, easy navigating at a glance.
Once a sufficient amount of visits to each page has been made Google declares the winning design. These test usually run from 1-2 weeks based on your site traffic. One of our most recent tests concluded the new variation had outstanding performance (6:1 for conversions) over the existing page. It is clear that layout and content flow are vital for conversions. Stop guessing, test it! Get a winning design, established by data.
Ready to have multivariate tests improve your site's conversions? Contact your Surgeon's Advisor Account Manager, or email accounts@surgeonsadvisor.com to answer all of your site-specific concerns.
---