Robert Baxter is the founder and CEO of Surgeon's Advisor, a leading provider of digital marketing and patient acquisition strategies to aesthetic physicians. He is also the CEO of Aesthetic Reviews, which provides reputation management and patient review strategies and services to physicians. Considered a specialist in the field of digital marketing and reputation management, he lectures regularly across the globe while staying abreast of the web's constant changes.
Upcoming Events
Vegas Cosmetic Surgery 2017 – Multi-Specialty Speeches
How To Improve Your Reputation And Online Brand
6-9-17 at 8:25 AM
Moderating the Practice Management Session on 6-9-17 from 8 AM to 12:45 PM
How to Measure Digital Marketing ROI while Auditing your Vendors and Keeping them Honest
6-9-17 at 5:15 PM
Moderating the Practice Management Session on 6-10-17 from 8 AM to 12:45 PM
Panelist, Interactive Discussion Forum
6-10-17 at 5 PM
AAFPRS 2017 Annual Meeting October 26-28
Top 10 New Digital Marketing Strategies for 2018 and How You Can Incorporate Them into Your Practice

Each year brings new sites, apps, and algorithm changes. New strategies are needed to keep your digital visibility competitive. Robert Baxter will outline the top ten strategies you should be aware of as 2017 transitions into 2018 and illustrate real-world examples of each, as well as potential return on investment. Learning objectives include (1) understanding the evolving digital space, and (2) making decisions- including budgetary decisions that apply to your practice.

What Would I Do? Here's What I Would Do Today if I Wanted to Take my Web Presence to the Next Level

After working with facial plastic surgeons for nearly 15 years, Robert Baxter has learned a lot about what works online and what doesn't. In this course, using real-world data, he will present what he would do to "take over" in his region online if just starting out today.
Learning objectives include (1) understanding what sets the most successful facial plastic surgeons online apart from the rest while (2) learning about advanced digital marketing tactics that really work.

Strategies to Avoid When Marketing Your Practice Online

Facial plastic surgeons must navigate a complex, ever-changing, and often"black-boxed" world of Internet marketing, social media, and reputation management. Unfortunately, many service providers over-promise and under-deliver. In this talk, he will discuss the most problematic strategies, issues that using them can create, and smart alternatives to choose instead. Learning objectives include (1) becoming aware of problematic digital marketing tactics, and (2) utilizing tools and resources to determine if they are being utilized on your behalf today.

Top 10 Strategies for Acquiring More Patients Online in 2018

Robert Baxter will outline the top ten methods for increasing digital marketing visibility and acquiring more patients through the web, using real-world examples as well as return on investment. The goal is for facial plastic surgeons to learn about their marketing options and uncover new methods of improving their practice online. Learning objectives include (1) understanding which digital marketing strategies are best for acquiring new patients

Making Bad Reviews Go Away without Getting Ripped Off: A Step-by-Step Guide

He will discuss specific steps for making negative reviews or problematic website listings fade in significance and even "go away." He will also address the many ways that vendors use nefarious tactics you should avoid. Finally, Robert will analyze real-world strategies used and results they achieved. Learning objectives include (1) understanding specific steps for managing your reputation that actually work while (2) learning about problematic strategies you should avoid and (3) seeing real-world examples of the right strategies in action.
Surgeon's Advisor Director of Digital Marketing, Michael D'Elicio, will be covering the following:
How Not to Build a Web Presence in 2018

Much of the conventional wisdom about SEO and digital marketing in general that practice have learned over the last decade are no longer relevant. In fact, the last two years have seen some of the most radical changes to the core Google algorithm, and many of the techniques that worked in the past are either obsolete or even detrimental. Learn some of the best methods for moving forward in search for 2018 and beyond.

Starting a Web Presence: Advice for New Practices

For doctors embarking on their own, some of the most difficult aspects have nothing to do with surgery and everything to do with practice management. Among those, starting a web presence can be the most daunting. How do you start a website? What do you put in it? How do you get found on search engines? What kind of photos should you use? How do you establish your online reputation? We'll answer these questions and more!

Technical SEO 101

A lot of digital marketing professionals these days are spouting the mantra "Content is King" when discussing best practice for SEO these days. But content can only go so far without a quality website built with technically sound foundation. Learn the highest standards for technical proficiency for a site, including site speed, internal linking strategy, and how to get Google to properly index your content.
South Beach Symposium Speeches
What Would I Do If Just Starting A Practice Or Building A Website Today?
Thursday, November 2nd at 3:30 PM
How To Measure Digital Marketing ROI While Auditing Your Vendors And Keeping Them Honest
Friday, November 3rd at 12:00 PM
Step-By-Step, Exactly How To Improve Your Reputation And Online Brand at
Friday, November 3rd at 4:45 PM
Panelist: "Live Demonstrations For Managing And Optimizing Your Web Presence"
Friday, November 3rd at 12:20 PM
Robert Baxter is considered one of the world's foremost experts on the subjects of Internet marketing and reputation management for aesthetic physicians. He has an extensive background in these fields and has patented a platform for the publishing of HIPAA-compliant, verified patient reviews.
Past Talks and Lectures by Robert Baxter and Team
Reputation, Ratings & Reviews – Trends, Advances & Things to Avoid
What Would I Do? Using all my Skills and Expertise, Here's What I Would do Today if I Wanted to Take my Web Presence to the Next Level
An Evidence-Based Look at Reputation Management and Practice Marketing
Ratings & Reviews
2013: A Year of Major Changes in the Online Space – What Your Practice Needs to Thrive on the Web in 2014
The Internet A Blessing or a Curse
An Inside Look at Reputation Management Services – How They Can Actually Backfire and Ruin Your Reputation
Online Reputation Management
Google Says Google+ Isn't Part of their Ranking Algorithm – Myself and Others Say that's Not True – Here's Why and How to Capitalize on this Source of "Free" Visibility and Traffic
Reputation the New Playground
Reputation, Ratings & Reviews: How to Enhance your Reputation, Get Patient Reviews, and Defend Yourself from Attack
Reputation Management – Monitoring, Enhancing and Fixing When Patients Get Nasty
Online Reputation Management
Advanced Internet Marketing: What a Cosmetic Practice Needs to Know
Local, local, local! It's All about Local and Location – How do you get to the Top and Stay there Since so Many Searches are Now about the Map? Online Reputation Management: Including What to Do When You Get a Bad Review
Webonomics
Nearly 100 Sites and Counting – the Definitive Course on Reputation, Namespace, and What to do about all those Pages on the Web
Advanced Internet Marketing Strategies
The Evolution of Internet Marketing – No Longer can You Limit Your Efforts to Search Engines; Now You Must Deal with Social Media, Video, Reputation, and More. How? A Comprehensive Guide.
Truth, Lies, and Reviews – What's Real and What's Not in Reputation – and Why it Matters for You and Your Practice
Web Protection Strategies
Reputation Management Including Monitoring, Enhancing & Fixing
Reputation, Ratings & Reviews: Trends, Advances & Things to Avoid
Network of Florida Otolaryngologists
November 11-13, 2016
Dealing with Bad Online Reviews
Vegas Cosmetic Surgery – Multi-Specialty Aesthetic Symposium
June 18-22, 2014
The Bellagio, Las Vegas
Yelp Advertising Return on Investment

Lead increase after Responsive Redesign and Mobile Optimization

Branded Clicks and Conversions Down from One Negative Listing

DIY + One Monthly Talk at $500

Lead Increase through Live Chat and Patient Engagement

One-Star Yelp Review Results in Revenue Loss

Rate of Return on Multiple Referral Sources
Rejuvenation of the Aging Face 2014
February 05-08, 2014
San Diego, CA
Fall Meeting 2013
October 19-21, 2013
New Orleans, LA
Exhibitor Prospectus
American Academy of Facial Plastic and Reconstructive Surgery (AAFPRS)
Robert was invited to participate on a panel with Steven H. Dayan, MD; Jeffrey S. Epstein, MD; Denise Mann; Tom Seery; and Mike Wilton at the fall meeting of the AAFPRS.
Internet marketing management is found on the program for virtually every meeting. However, which strategies really work and which don't? This unique panel will challenge experts to back up their marketing advice with facts and demonstrate ROI.
Topics of discussion:
The top three ranking factors according to Google itself

The top six practically-applied ranking factors

Boring but effective – simple items you should execute on every day

New and edgy rankings factors to help you get ahead of the curve

The most cost-effective use of a physician's time regarding these factors and what I would focus on if I were starting a practice today
---
Organization of Facial Plastic Surgery Assistants (OFPSA)
While the AAFPRS is in session the OFPSA will also be holding its annual meeting in Washington DC as well. Robert was invited to speak on September 6th, 2012.
The discussion is titled: The Great Debate: Deals, Reputations and Delegation and will be from 3:15-4:00 pm with Michael J. Sacopulos, Sacopulos Johnson & Sacopulos; Robert Baxter, Surgeons Advisor; Sam Lam, MD; Kristi Rook, Medics
---
International Society of Hair Restoration Surgery (ISHRS)
Next on the agenda will be the 20th Annual Scientific Meeting for the ISHRS. This will be from October 17-21, 2012 at the Atlantis Paradise Island Bahamas.
Details to come, check back in for updates.
Vegas Cosmetic Surgery 2012
Aesthetic Reviews CEO Robert Baxter is on the forefront of online reputation.
Just recently, Mr. Baxter attended the 8th annual Vegas Cosmetic Surgery 2012 event, where he led two panel discussions on reputation management:
Truth, Lies, & Reviews – What's Real and What's Not in Reputation Management – And Why it Matters for You and Your Practice and Case – Physician Finds Out That There Has Been a Very Negative Review Placed On a Review Site.
Robert Baxter was honored to attend and speak at this year's meeting were attendees were educated over a 5 day period through lectures and live demonstrations. He hopes those who attended left the convention with useful tips and information regarding online reputation management.
---
28th Annual Scientific Meeting of the American Academy of Cosmetic Surgery
January 17-22
This time it's at Ceasar's Palace where I'll be speaking about the latest and greatest advances in reputation management, ratings & reviews, and how to make sense of it all.
Reputation Management: Monitoring, Enhancing & Fixing When Patients Gets Nasty
Reputation Management Services – How They Can Actually Backfire and Ruin Your Reputation
---
Tampa – Then Onto Naples and Sarasota
December 9-11
Enjoyed visiting everyone while on our road trip. Thanks for your hospitality!
Of course, Andrew had a great time too, because this time he spent the weekend in Busch Gardens while daddy was speaking!
---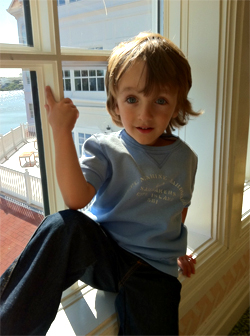 Reputation, Ratings & Reviews: How to Enhance Your Reputation, Get Patient Reviews, and Defend Yourself from Attack
FSO-HNS & FSFPRS 2011 Annual Education Conference, November 10-13, Grand Floridian Hotel, Orlando, FL
This was a fantastic conference. One of my favorites yet. I gave a really fun talk in a more intimate setting. What's more, the conference was held at the Grand Floridian Hotel – and the timing was perfect. It was my son's 4th birthday last week! What more could anyone ask for!
I was able to sit down and meet with scores of clients and prospective clients as well. On the way up, I met with Naomi from Dr. Ross Clevens office. His office is great – right across from the water on the East coast of Florida, about an hour outside of Orland.
Thanks again to Dr. Nathan Nachlas, Dr. Ross Clevens, Dr. David Holcombe, Dr. Peter Adamson, and everyone else.
---
It's All About Verified Reviews
2011 ASDS Annual Meeting, November 3-6, Washingon, DC
Enjoyed this conference a lot and think it will go down as one of the best yet. Maybe I'm talking too much, though – my mouth is getting tired! In addition to pushing the need for verified reviews, I was also able to take a little break from podium time to see a few clients (shout out to Dr. Shervin Naderi) and spend some always great times with Tom, CEO of RealSelf.com. Now, it's time to plan for the next one!
---
OFPSA Fall Meeting: The New Playground: Reputation Management
Another fantastic talk with a great audience. Thank you so much to Tracy Drumm and the rest of the people at the OFPSA.
---
AAFPRS Fall Meeting: The Internet a Blessing or a Curse | Reputation, Ratings & Reviews – Trends, Advances, Pitfalls and Things to Avoid in this Evolving Arena
---
Publications
What Better Way to Follow a Magazine Spread Than With a Book
Okay, okay – probably too early to talk about it – but I will anyway! It's a big secret book coming out in the world of aesthetics and I'm honored to have been asked to write a chapter. A big one. While I can't tell you the name of the book or what it's about, I can tell you the name of my chapter:
Managing Your Online Reputation and Advanced Internet Marketing
---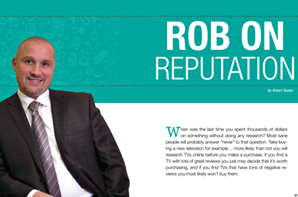 A Reputation Magazine Spread, How Cool
I'm excited to be in a new magazine spread talking about reputation. Here's a little excerpt:
When was the last time you spent thousands of dollars on something without doing any research? Most sane people will probably answer "never" to that question. Take buying a new television for example… more likely than not you will research TVs online before you make a purchase. If you find a TV with lots of great reviews you just may decide that it's worth purchasing, and if you find TVs that have tons of negative reviews you most likely won't buy them.
I will let you know when it's published!